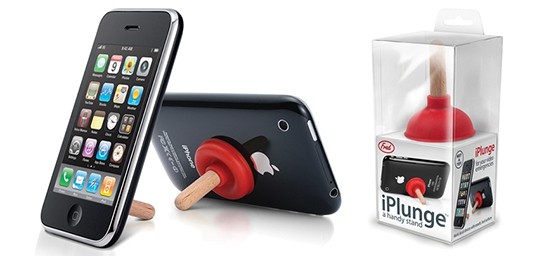 (photo source: neatoshop.com)
fans of toilet accessories rejoice! now you can bring a piece of your toilet to your desk, in the form of iPlunge Phone Stand – err… i am not sure why would you want to do that but the cool/cute factor is definitely there. this miniaturized plunger has a suction cup that attaches to most hard, smooth surface of your mobile device, propping the device up at an angle. please don't leave this in the toilet, cos' this isn't a real toilet plunger. in case you are wondering, this unique item is designed by Homade, the same guys who brought you the iTape Deck iPhone case. the iPlunge Phone Stand retails at a modest US$5.95.
[ad#Google Adsense-text-468×60]
check it out @ NEATOSHOP.