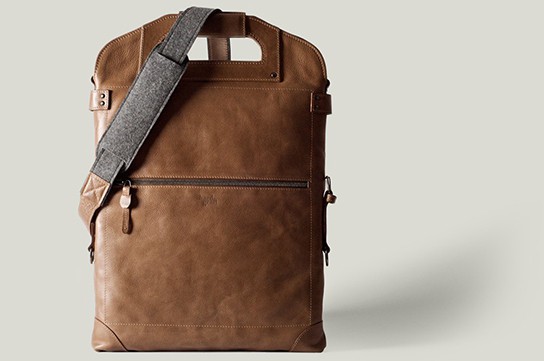 (photo source: shop.hardgraft.com)
Hard Graft 2UNFOLD Laptop Bag. it's a briefcase, shoulder bag, backpack, a courier and clutch bag, depending on how you fold it. tanned leather never look this good. this hand-made in Italy leather good is a perfect choice if you are lugging both your laptop and iPad along. aside from stowing away your laptop, there's a enlarged zipper compartment that can fit your iPad fitted with Hard Graft's iPad case and an internal compartment with zipper for your phone and wallet. it is called 2UNFOLD for good reasons. in unfolded form, it can be a briefcase, should bag or backpack. fold it up and it turns into a courier bag (aka messenger bag) or a clutch bag.
the main laptop compartment fits MacBook Pro up 17 inches (placed vertically) or it can take in MacBook Pro 13 inches in horizontal placement when folded. 2UNFOLD was made using premium vegetable tanned leather which means varying textures and irregularities in colour and shade will be present, adding value to its appearance, not to mention making every single piece of leather unique. the quality and uniqueness comes with a price of €389.00. wow.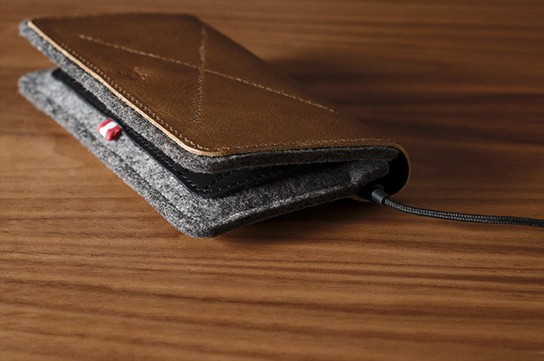 (photo source: shop.hardgraft.com)
Hard Graft Phone Fold Wallet. the Fold Wallet is compact bi-fold that fits your iPhone 4, even with it's bumper case on and it still has room for up to 8 credit cards (and some cash) to handle your compulsive shopping habit. the exterior is of vegetable tanned leather, while the asphalt grey 100% wool keeps your iPhone and cards nice and comfy in the inside. a metal snap is built within to keep your wallet closed, keeping your items from slipping out.
i am an huge fan (or sucker, depending on how you look at it) of beautiful stuff and whatever, so this one really made my heart melts… wooo… so sweet. unfortunately it is sold out at this point. nevertheless, the Fold Wallet retails for €65.00 (approx. US$90). i want one for Christmas. you can make my wish comes true by advertising with Tech.Get… nah… just kidding! though i would love more hits and more advertisers. seriously, who would mind?