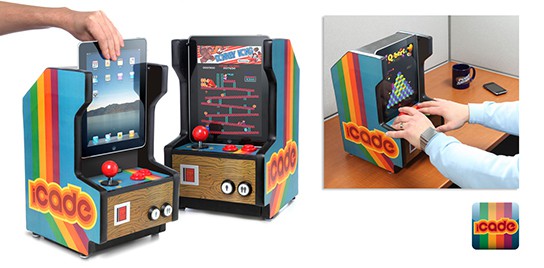 (image source: ThinkGeek)
another reason for you to get an iPad. well, not really. but if you already have an iPad, consider going old school with this sweet iPad Arcade Cabinet with cheerful paint job to match. basically the iCade (yes, that's what they call it), is an iPad dock in the guise of retro Arcade Cabinet, dedicated to retro gaming. you will need the iCade App to go with this Arcade cabinet. strangely, i can't find the App on the Appstore. perhaps it is only available in US Appstore? so those non-US Store users, do take note.
[ad#Google Adsense-text-468×60]
if you are those lucky fellows that has access to iCade App, you can start rocking the retro gaming world via the authentic arcade stick and microswitch buttons (reportedly rated to have a 10 million uses). the iCade features working 1 & 2 player buttons, integrated 2.1 dolby speakers with subwoofer within the cabinet and in-built 10w USB power adapter to keep the juice flowing to your iPad for unlimited retro gaming. the iCade measures 9″(w) x 10″ (d) x 16″ (h) and retails for US$149.99.
visit ThinkGeek website.