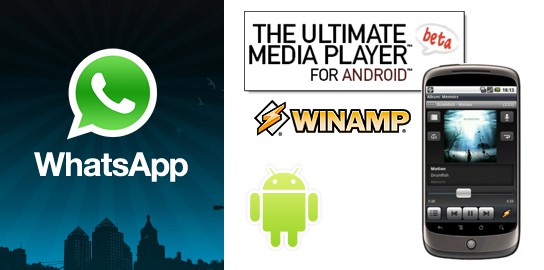 (image source: whatspp.com / winamp.com)
it's official: Whatsapp is now available on Android Market – not beta anymore. so friends out there who are using Android devices, can now text me via Whatsapp. saves us some money. great.
remember Winamp? to me Winamp is to MP3 as iPod is to portable music player. that was the first player that i used when i first discovers the wholesome goodness of MP3 music. i sure did have a lot fun with Winamp for desktop back then. you know adding plugins and changing the skins… now Winamp Beta is now available for Android (OS 2.1 & above) users. it will not be just another music player, but it will be a complete media management for Android and syncs seamlessly between your Winamp desktop library, wirelessly or wired via USB cable. the Winamp Beta features persistent player controls, play queue management, widget players & shortcuts and displays song info, album art et cetera.