there hundreds, if not thousands, of woes we have with technology, be it privacy or social or whatever. while there are bodies that will speak up on our behalf, there is nothing like taking a stab at these 'woes' with an artistic approach. that's exactly what designers Xuedi Chen and Pedro Oliveira did with their creation known as x.pose, a 3D printed corset sporting reactive displays that will progressively turn transparent as more data are collected from the wearer's smartphone which is actively connected to the corset. now, dudes, don't get all too excited (although you really should) cos' there is more to x.pose then mere peek-a-boo. the working of x.pose symbolizes how our data are openly harvested and sometimes abused, thus rendering us naked and vulnerable.
on the technology perspective, x.pose is a wearable data-driven sculpture which, when worn by lady as it is intended to, will only send blood gushing among dudes and perhaps, a shock-treatment to all others who weren't as thrilled by it, thus driving the artists' message across. each reactive display represents a neighborhood and once the location of the wearer's location is established, a patch will pulsate and changes in opacity as more data is being collected from the wearer's smartphone. keeping going for the rationale behind this artistic stab at technology from the horse's mouth and also a video of it in action which you, erhmm, might want to watch it in HD. just saying…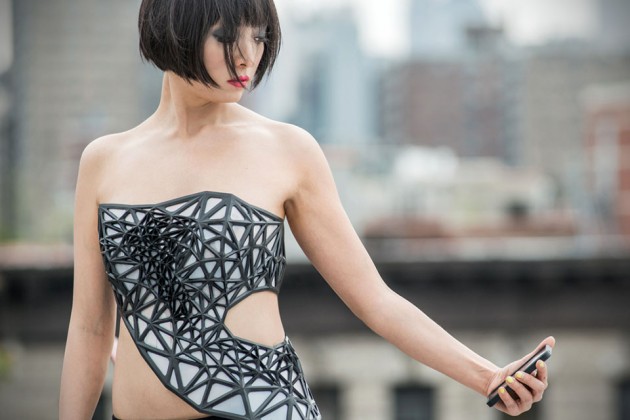 x.pose is an exploration and commentary on the current internet culture of our generation and the relationship we share with our data. Individuals carrying smartphones and connecting with services such as Google or Facebook have agreed, often without conscious consideration, to policies that grant these service providers explicit rights to harvest and utilize personal data on a massive scale. Based on account activity logs, Google clearly knows where their users are, have been, and possibly even where they're going. Google can most definitely paint a clear portrait of any of their users.