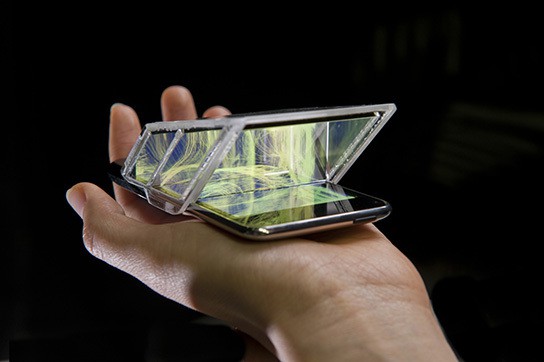 (photo credit: v2.nl)
after the successful "invasion" of high definition displays and imaging devices, manufacturers has been working fervently on 3D technologies for consumer electronics, extending it beyond just displays but also to imaging and playback devices. so shouldn't iPhone be 3D capable as well? we don't have to look too far, the i3DG Palm Top Theater makes 3D playback on your existing iPhone and iPod Touch possible.
the concept was a simple one. a contraption with three half-silvered mirrors, tilted at an angle in a box-like package, creates an illusion of 3D display on your device. designed by Jitsuro Mase, this box-shaped accessory plugs in to your iPhone or iPod Touch to let you enjoy 3D playback. the result looks pretty convincing and cool. check out the video below.
cool as it is, however there's just one catch: you have hold up your iPhone or iPod Touch with the i3DG device attached and view into the small oblong display screen of the i3DG. definitely something you won't want to do for extended period.
via CNET