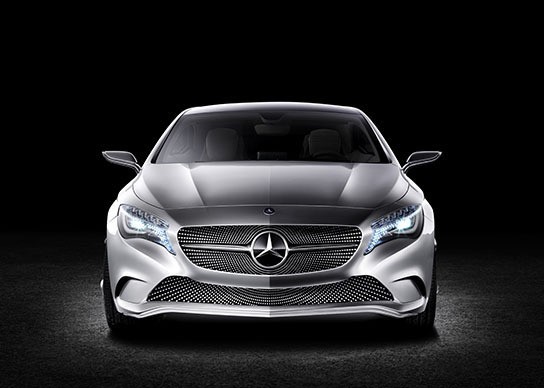 (credits: Daimler)
running up to the Auto Shanghai Show (April 21 to 28, 2011), Mercedes-Benz unveiled the new Concept A-Class. gone is the tall design that threatens to topple while cornering and in comes a completely new sporty body design. the Concept A-Class sports a newly developed turbo-charged four-cylinder petrol engine, dual clutch transmission and a radar-based collision warning system with adaptive Brake Assist, a first for a compact class automobile.
[ad#Google Adsense-text-468×60]
the car's designed drew its inspiration from the wind and the waves, as well as aviation engineering as witnessed by its aircraft wing shaped dashboard, air vents that reminiscent of a jet aircraft engine and striking red instrument cluster inspired by the afterburner of a jet engine. even the centrally-located shift lever takes on the form of a "reverse thrust control."
the exterior is as equally alluring as its interior. the front end is bound to grab attention with its brand logo surrounded by 'starry sky', instead of the usual apertures or louvres. the 'starry sky' is actually numerous metallic silver "dots" on black stems. this theme is carried on to the design of the wheels, as well as the rear of the vehicle. this concept also sports a very interesting headlamp cluster design. each of the full-LED high performance headlamp is flanked by daytime running lamps consisting of 90 optical fibers with aluminum sleeves, and arranged in wing-shaped design. hence, from the front, the Concept A-Class looks to be covered by starry sky.
powering this compact concept is a 2.0-liter four-cylinder petrol engine hailed from the new M270 series that puts out 155 kW (210 hp) to its front wheels. the engine is mounted transversely, and features direct injection and turbocharging which results in high performance with minimal emissions and fuel consumption.
it is the first compact class in the world to sport a radar-based collision warning system with adaptive Brake Assist, which lowers the risk of rear-end collision. the Collision Prevention Assist gives both visual and acoustic warning to possibly inattentive driver, and prep the Brake Assist for an absolutely precise braking response. i have always like the A-Class and it looks like Mercedes-Benz has just up its ante by a huge notch with this concept. well, enough of the write up, hit the jump and feast your eyes with some images of this (very) sexy concept.