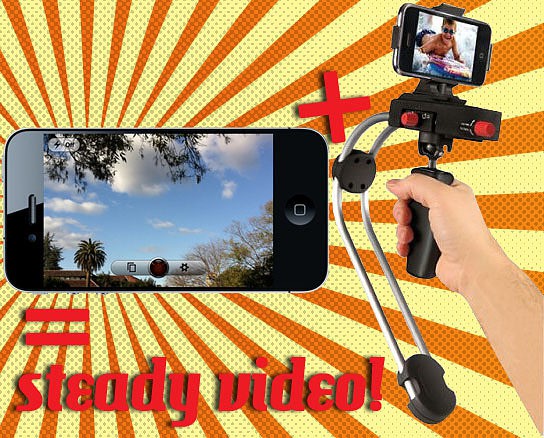 (credits: Midnox / Steadicam. graphics: mike)
video recording with mobile devices has progressed leaps and bounds. today, using your smartphone such as an iPhone to record HD footage is not uncommon. however, there is still a problem that's bugging us and that's the shaky footage associated with lightweight recording device and of course, the lack stabilizing hardware. we scour the net and we found one hardware and a software that might soft the shaky 'blair witch project' syndrome when recording with the iPhone 4. if you like capturing video footages with your iPhone 4, you really shouldn't miss this. iPhone 4 takes pretty awesome HD video, it would be a shame to have the HD quality marred by shakiness. i'm sure you wouldn't want to recreate another Blair Witch Project or Cloverdale, don't you?
the Steadicam Smoothee is a video rig that uses counterweights to steady the rig, much like its larger counterparts for movie and television cameras. a quick release bracket on top of the main body of the rig holds your phone or camcorder and a curve metal arm with a couple counterweights extends underneath. to use the rig, user simply hold on to the pistol-style grip that is joined to the main body via a freely-moving gimbal connection. the combination of the counterweights and the free-moving main body provides the rig with stability while recording. the Smoothee also features adjustment knobs, allowing the user to move the phone/camcorder from side to side or front to back in order to achieve a perfectly balanced over the Smoothee.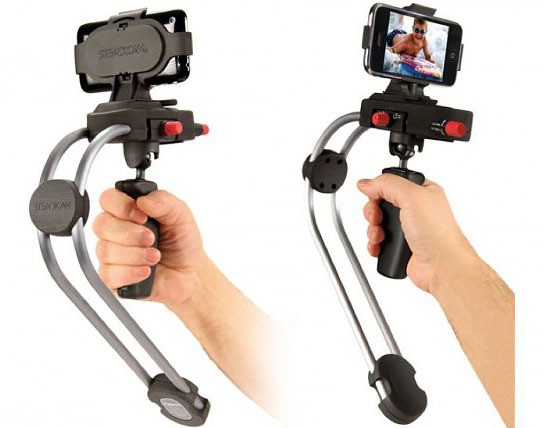 (credits: Steadicam)
check out Smoothee in action in the video after the break. looks pretty convincing to me. the Steadicam Smoothee is compatible with iPhone 3GS, iPhone 4, iPod Touch, and FLIP Mino HD and has a retail price of around $200.
though the Smoothee looks promising in giving a more professional footage, however, from the intro video we do notice some hints of subtle wobble which is no surprise to us, it is after all, not a full fledge video camera rig. if you have an obsession with 'anti-shakiness', then you are in luck. there's a new app in town for iPhone 4 called SteadyCam Pro that might help you further smooth out a few details that Smoothee might have left out.
SteadyCam uses advanced signal processing algorithms and what Midnox claimed as "a little bit of magic" to remove the shakes in your video recording and correct for rolling shutter, all in real time. needless to say, that would take quite a processing power and hence, SteadyCam Pro is only available for iPhone 4 running iOS 4.1 or later. SteadyCam Pro if free download and try but that only gives you a watermarked recording of just 15 seconds. if you like what you see, you can upgrade to the full version for $2.99. the SteadyCam Pro is available on AppStore now. check out the video of the SteadyCam in action after the break.
by combining both the hardware video rig like the Smoothee and the SteadyCam Pro app, you can truly take advantage of the power of iPhone 4 HD video recording. though, the combine price tag of $200+ is not exactly cheap for non-videographing enthusiasts but perhaps, after reviewing your nausea-inducing shaky Big Foot footages, you probably would wish you had the rig and the app to stop the shaking and had much better chance of convincing the scientists that you actually saw a Big Foot. not that i am saying Big Foot is real but you get the idea.
Midnox / Tiffen via Gizmag and Geeky Gadgets