You heard of 360-degree audio speakers, but did you know that you can enjoy it whenever you are? Thanks to Acemile Theatre Box 360-Degree 3D Surround Sound Speaker you can actually do so. Billed as the world's first commercially available portable wireless speaker, this unassuming oblong box promised to deliver a 360-degree 3D surround sound experience to everyone within the room, regardless of the where the individual is in the room or the orientation of the speaker. Acemile claims this baby could fill a 2,000 square-foot room by itself with sound delivered out through four 2" full-range drivers (2 on one of the long side and 1 each on the short sides) and a 3" active bass driver, bolstered by dual-core digital audio processing circuitry.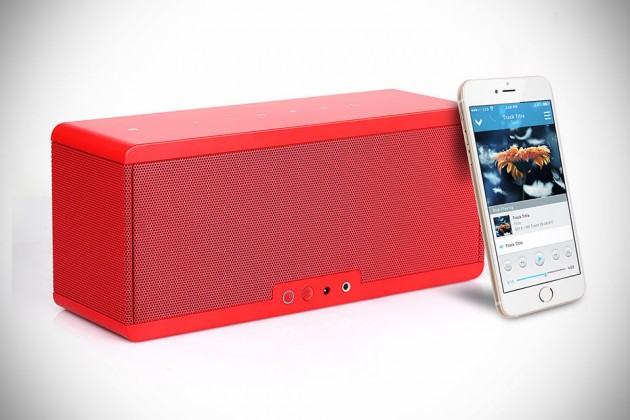 All told, you are looking at a pretty impressive 125W of sonic reproduction. It also packs a rechargeable lithium-ion battery, offering up to 20 hours of playback and it is of course, Bluetooth-enabled, meaning this is a complete cord-cutter, letting you wirelessly stream your favorite tunes from Bluetooth-enabled sources such as your smartphone or tablet (supporting aptX, SBC and AAC, no less). So how is this 360-degree sound possible? Well, here's what Acemile has to say:
"THEATRE BOX utilizes Q3D Holophony, a new technology that uses a proprietary algorithm based on sound wave field synthesis, which gauges the audio environment and delivers continuous, layered sound waves. All layers of these sound wave "bubbles" are synthesized with the 360-degree 3D audio effect, and as the bubbles reach the listener's ears, he or she is immersed in 360-degree 3D surround sound."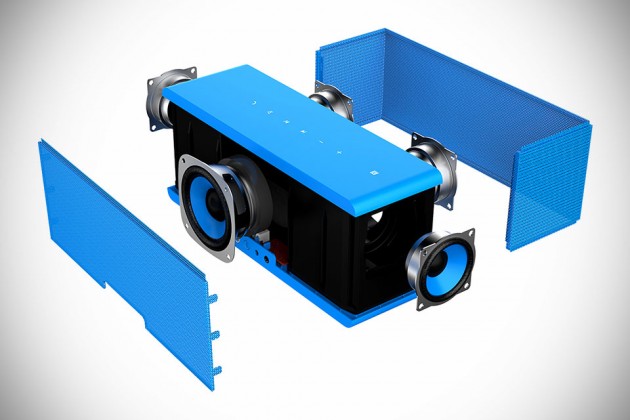 We shall not argue with that. The only way to find out is to audition it ourselves, until then, we will just take Acemile's words for it. Though we remain skeptical if a traditional rectangular, even with speakers in different directions, could achieve the so-called 360-degree sound effect. Anywho, other details include NFC for quick pairing, built-in omni-directional microphone for speakerphone duty, a 3.5mm audio input for non-Bluetooth sources, and capacitor touch controls. Acemile Theatre Box was successfully funded Kickstarter project, but for those who missed out, the good news is, it will be available starting February, in a choice of four colors (red, white, blue and black) for $299.