Throwing a dorm or home party with seriously ground-moving tunes? Then we bet you're going to love Rayger. This handy little box is a music frequency responsive device that, when rigged to strips of LEDs, will create a spectacular light show based on the beat of your music. With this little guy here, the era of renting cumbersome lighting equipment will be a thing of the past. And disco ball? Who needs one when you already have access to super bright LEDs with lovely colors to boot? But how is Rayger different from its competitions? Well, apparently, instead of audio volume-triggered light response, it uses frequencies or pitches in the music and translates them into visual response. The setup comprises of two parts: Rayger and a set of LED light strips.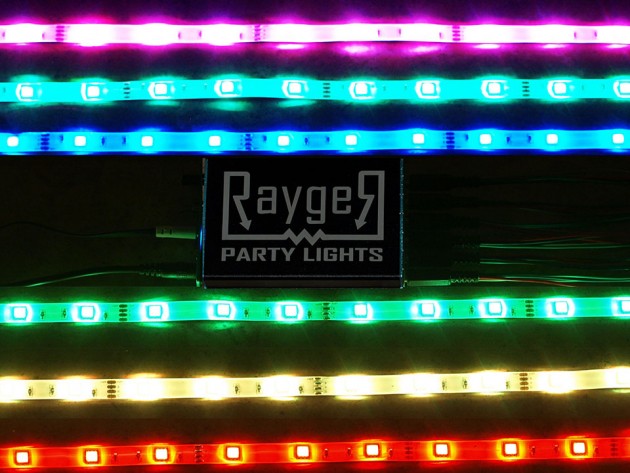 Naturally, the box is the one that makes all the magic happen. Plug it between your source and speakers (or let the built-in microphone listen in to the music, if you're on Bluetooth) and Rayger will work the magic. In simple words, Rayger takes the audio and splits them into six channels based on the different audio frequencies which will then trigger the corresponding light strip accordingly. This division enables a light strip to be assigned to a specific frequency, say one for bass, another for the treble, and anything in between. In this way, you will have more light variation to spice up the party. Response is said to be immediate and so there's no need to be concerned about syncing issue.
Well, what can we say? Rayger could be the best thing since dorm party was invented, which nobody knew who started anyways. A word of warning though: those who are sensitive to flashing light, which may lead to photosensitive epilepsy, might want to avoid this (don't go to parties and clubs. Period). But for everyone else who just want to have a rocking time that teases your visual sense as well, you can pre-order this little box of wonder from Kickstarter for $80 and up, and in the process help to push Rayger into a reality. Keep going for the pitch video.
submitted via TIP US page.