When Airbnb started, it was an opportunity for cheap accommodation and staying experience typical hotels can't offer. Since travelers are staying in real people's homes, they can assimilate into the community where the homes are located. At least, that was the theory. Actual experience may varies. Anyways, that was then. Things have took quite a turn since. Now, Airbnb is more 'interesting' with people offering living experience in city igloo, Netflix-themed apartment, 'Batcave', and now, the opportunity to spend the nights with sharks. Yup. Sharks. Real sharks.
But this ain't no Shark Tank; there are no Mark Cuban, Kevin O'Leary or Daymond John to deal with and you need not pitch anything. All you need to do is rest and relax and place your faith in Aquarium de Paris that the 360-degree transparent wall that separates you and the roaming sharks in the clear blue water remains intact during your stay. According to the listing, it is a house (more like aquarium, really), a bedroom with a circular bed, a bath, and appears to be no other amenities except for "essentials" (probably towels and such), shampoo and it includes the most important meal of the day: breakfast (not sure if breakfast has anything to do with seafood, though).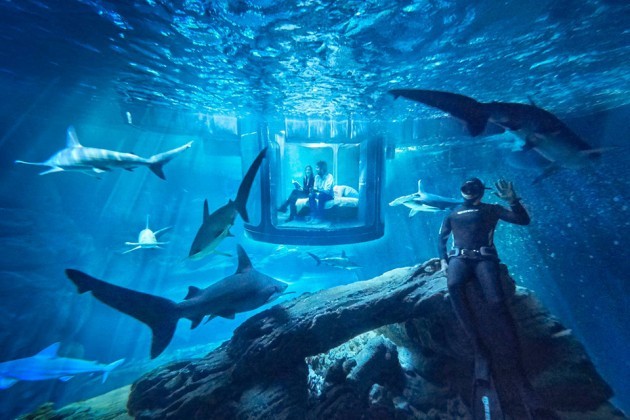 This means there's no TV, no fireplace, no WiFi, no washer, and whatever creature-comfort you have come to expect from a regular hotel. There are some rather humorous rules to abide by while in the tank, which includes no selfies after dark, avoid watching Jaws before your sleep, no sleepwalking or night swimming, keep your heads and feet in the bedroom at all times – just to name a few.
Depending on your affinity with sharks, Airbnb's The Shark Aquarium could be a dream or it could be nightmare. And if you do get the chance to sleepover in the tank, you'd have the rights to claim that you had slept with the fishes. Ermmm, not that that's a good thing, but it is fun though, right? Now, the good news: it cost nothing to stay at The Shark Aquarium; all you have to do is to enter a contest setup on Airbnb UK site to have chance to spend the night with the sharks.