Talked about making the best out of bad situations. One New Yorker by the name of Patrick Horton did just that when Winter Storm Jonas swept through New York City. Instead clearing the unusual amount of snow, he and his friends got to work and made an igloo out of it. Calling it a Boutique Winter Igloo for 2, he listed in on Airbnb for rent at a cool $200 a night. Not only does this guy has the enterprising spirit, but he turns out to be quite a marketer too, describing his handiwork as "dripping with ingenuity and alt-lifestyle aura lays the Snopocalypse of 2016's most desirable getaway. Hand-crafted, and built using only natural elements – we're offering the experience of a lifetime in this chic dome-style bungalow for you and bae." It sure sounds pretty enticing to us.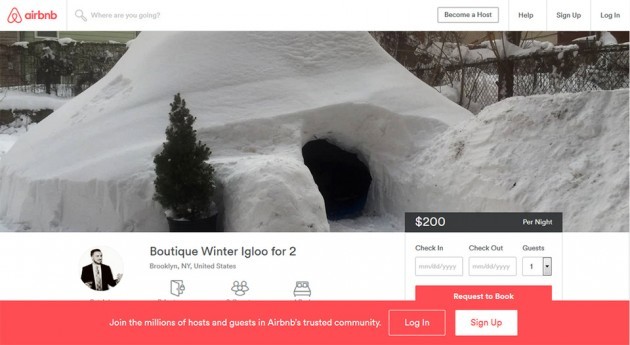 Unfortunately, nobody was quick enough to take up the offer before it was taken down by Airbnb for not conforming to the company's "occupancy rules." We are not surprised though. An igloo not located in its natural habitat such as the North Pole is not quite a proper lodging. To be fair, the inside was necessarily 'furnished' for a night stay or two with blanket and pillow to keep you warm, and lights so your activities, whatever they may be, won't have to end when the sun goes down, which can be pretty early at this time of the year. And no, you can't make a hole in the street to fish for food cos' beneath is just the good'ol stinko sewer system.
Anywho, there goes your chance of staying in the igloo without heading to Greenland or Canada. We learned that the igloo is located at Greenpoint neighborhood, so if you want, you can drop by and see if its still around. Who knows? Pat may let you cosy in it for a bit?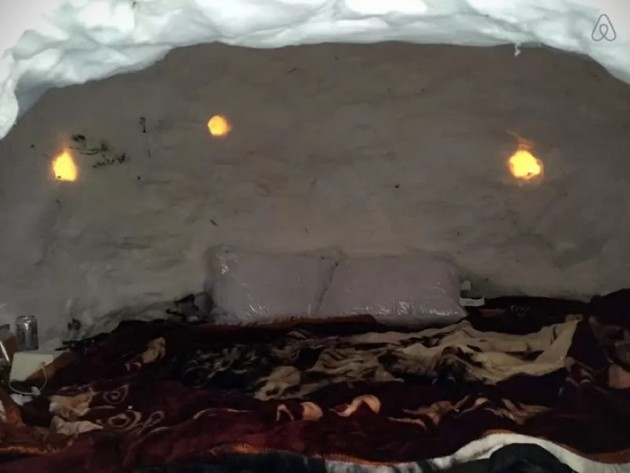 via Lost At E Minor via NBC News