The number of Vision Gran Turismo cars is growing by the day and the resurrected French automaker Alpine is the latest to introduce its very own virtual car for Playstation Gran Turismo 6 game. But these motor heads are not content with just a digital car; they have made a full scale model of the car which debuted at the Festival Automobile International in Paris on January 27, 2015. Apart from getting serious with a physical version, the accompanying PR video also talks about the return of the Alpine brand. The way I see it is, the return is inevitable, but the only questions are how will it position itself in this competitive arena and what type of cars will it be serving up? But for now, our focus is on this futuristic beauty on wheels.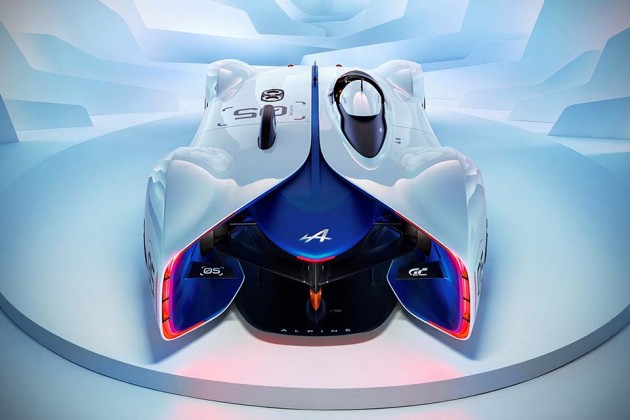 The concept drew its inspiration from various Alpine iconic rides including the A110, A210, as well as the A220. The streamlined body is said to be of a carbon monocoque construction which tip the scale at mere 900 kg (1,984 lbs) and it will be driven by a 4.5-liter V8 engine, pumping out 445 horsepower, which will help push it to a top speed of 200 mph. As you can see from the images, Alpine Vision Gran Turismo, like the rest of its Vision Gran Turismo cohorts, is exceeding striking, sporting a dramatic styling. The driver sits on the right in an exposed bubble cockpit with a engine air intake beautifully integrated as part of the roll cage.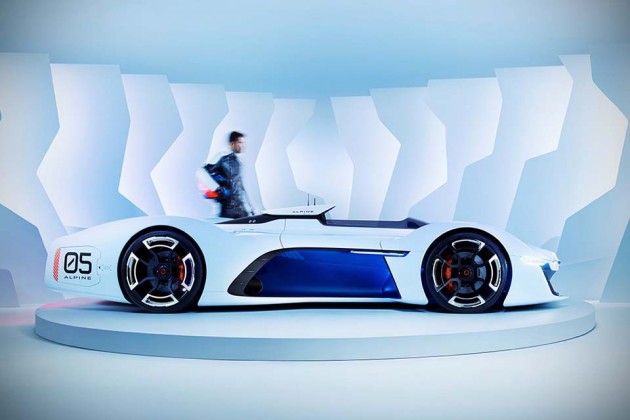 Keen eye motoring enthusiasts may have noticed that Alpine's iteration also does away with rear view mirrors, relying on high-definition camera for the rear view task. According to Alpine's design head, emphasis were put on the rear cos that's what gamers will be seeing most of the time (and hopefully, the gamers' competitors). The rear is also where you will a set of hydraulically-activated airbrakes, which when deployed, reveals the brake lights hidden under it. Pretty impressive stuff and also stuff that could only exist in dreams, or in this case, game. Sadly.
When it becomes available virtually in a game update sometime in March, gamers will be able to choose from three personalized colors, matte black, white and blue, and an Alpine A450-inspired orange and blue color scheme. Keep going for the said video to learn more. It helps if you understand French and Japanese languages.