Sunglasses is both cool and functional, but there are two things remain unchanged for as far as we can remember, which are the issues of temporary storage and 'perfect fit'. There is no such thing as 'perfect fit' and as for temporary stowing away when you need to hit the bathroom, it is not as convenient without the risk of it falling off if you wear it on your head or neck which many of us do. However, there is a small outfit called Baendit who strives to tackle those issues with their first product called Baendit. So what the heck is this unrecognizable word 'Baendit'? It is basically is a pair of sunglasses, but it stands out as one that is totally bendable and by being 'bendable' it does mean it actually bends and not just collapses or folds.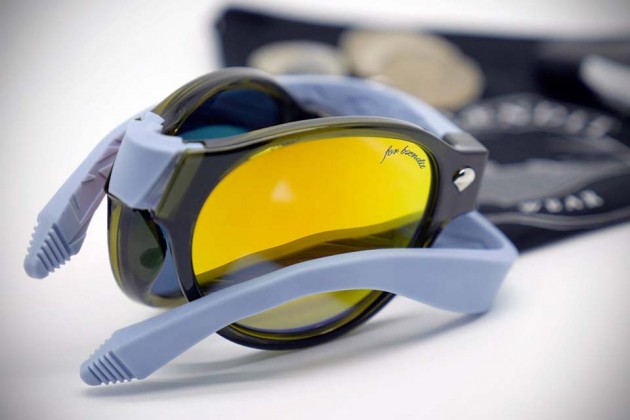 The frame is composed of two materials; the one surrounding the custom S20 Revo lenses is made from Thermoplastic Polycarbonate composite, while the rest are of TR-90 polymer which is lightweight, flexible and impact resistance. The TR-90 is the one that made the magic happens. It enables the eyewear to be bend into whatever shape you desire, such as into one that holds your earbuds, wrap around your wrist or even as a mobile phone stand, and can be easily revert back to the regular form to be worn as sunglasses again. The flexibility also allows it to do something which most eyewear can't do and that's to get the exact fit to your face whenever you want, be it for a tighter (or looser) temple fit or more frame curvature – doing so without the need to heat up the plastic like regular plastic frames do.
Another noteworthy feature is interchangeability. Both the temple and nose can be switched out to the color of your choice, so you can have a different look everyday and most importantly, it is super affordable. You can pre-order one from Indiegogo for as low as $35. There is a catch though; Baendit will only materialized if the campaign hits or surpasses its set funding goal of 20 grand in the next 14 days. Catch the pitch video after the break.