Toolbox is one of those things that needs to be reinvented, but it wouldn't hurt if someone has a better idea, right? And when said 'better idea' it doesn't mean adding wheels, additional handles, or bulletproof it. More is expected. Perhaps one that fits today's modern lifestyle and requirements? Well, the Coolbox Advanced Toolbox is one such toolbox that takes reinvention through the roof by packing it with every imaginable features any DIYers or handymen would love. On contrary to its moniker, it is not a cooler box. Oh wait, actually it can do that too, which means if you don't have a lot of tools, you can spare a space for some cold ones to reward yourself after a hard day's work. As a toolbox, it offers a removable tray, a magnetic lid to keep small metal bits from straying around, integrated wheels, dual handles, plus another one up top. But those are just the appetizers, which are essentially stuff you expect from a toolbox.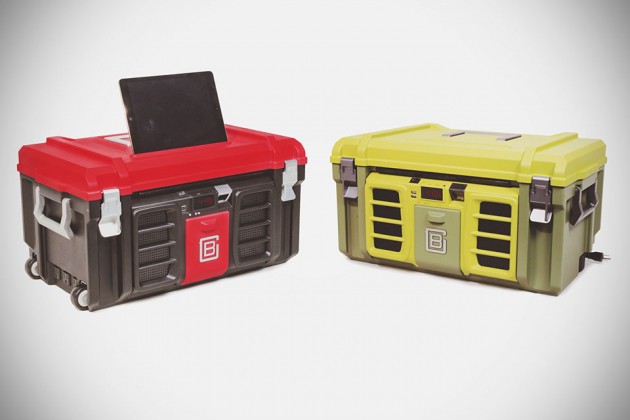 Outside of that, it boasts an impressively long list of features that any modern men/women needs and it include table stand inside and outside, whiteboard (yes, even a whiteboard), LED flood light, Bluetooth speakers, a built-in clock, a bottle opener (but, of course!), a discreet storage compartment for your phone or such, a built-in lithium polymer battery with USB ports to recharge your USB-powered gadgets, a 12 feet retractable power cord and finally, three 120/240V outlets, which could be use to drive power tools like drill, saw and sander using its onboard battery, or even stuff like air compressor, high-power oscillating saw and circular saw if using the pass-through power. Didn't I say it has an impressive list of features? Which kind of explains why the Coolbox's crowdfunding campaign on Indiegogo managed to soar pass its set funding goal of 50 grand in matter of days.
As of now, it has pulled in over $97,000 and with 44 more days left on the calendar, the Coolbox looks set to become the most funded toolbox ever. You can pre-order for an early bird price of $169 (which is a good 130 bucks off the eventual retail price), or $179 if you are slow to act. Keep going for a few more look, plus a well made product pitch video.