If you have been following Samuel L. Jackson on Facebook, you may have caught a glimpse of a scaled Hulkbuster in action. That's right. We said 'in action' because this little big guy is actually articulated, well, at least on the upper body where it proudly demonstrates an extensive articulation and animatronic armor that opens up to reveal Stark's in his Iron Man Mark 43 inside, just like in the movie and it also lights up like it should. The only thing missing is the green beast to slug out with. Man, this thing is insanely amazing. We can't help but drool over it, like profusely. At this point, little is known about this impressive work of art, except that it is of "super alloy" and is built to 1/4 scale, and basing on the Avengers' characters size chart (which stated the Hulkbuster as 11-foot; see chart below), this scaled model would be nearly 3 feet tall.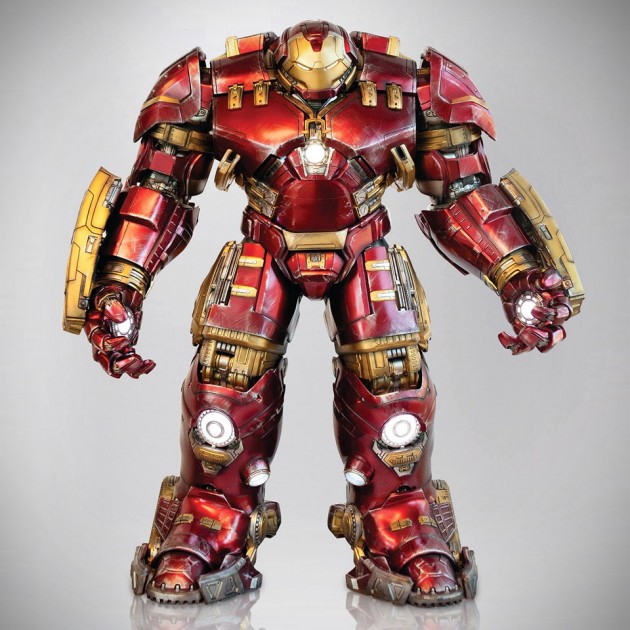 The model is created by Comicave Studios, a subsidiary of Al Ahli Holding Group headquartered in Singapore, that deals in a range of services, including creating products for "top Hollywood studios and brands like Marvel, Disney, Hello Kitty and Transformers". No word on the availability of this Hulkbuster. Neither was the price made known, but we're clear minded people and so we are under no illusion that this hulking beauty will be affordable to average collectors. It fact, it is likely to come with a Stark worthy sticker. So if want to have any hope of owning one when it becomes available, it would be wise to start saving now or maybe think about how much your humble shack can be mortgage for. And also, you may want to take note that Comicave Studios only produces stuff in limited quantity. So take heed, fans of Iron Man. Catch it in action in the embedded video after the size chart and try to hold up your jaw.
UPDATE [April 16, 2015: 7:30PM PDT] According to the Group CEO of Al Ahli, Mohammed Khammas, the Hulkbuster stands "nearly 4 feet tall" and not 3 feet as we have previously guessed. The one that made the spotlight at the Age of Ultron Red Carpet Premiere is known as the Prototype Zero. He added that "there are still lots of articulation, lots of movement we want to incorporate as well as movement to the upper body and lower body." Well, it sure sounds like a modern masterpiece in the making, which also translates two things: one, it will be a long, long while before you can actually get your hands on one and two, it is definitely going to be priced for likes of Tony Stark.