well, what do you know? ex-California governor and actor Arnold Schwarzenegger's custom Unimog is now on sale in Germany for a cool €208,250 (about US$270,000) and it has just 1,300 miles on it. man, what did this man do or not do with this beauty? anyway, this truck does not come easy for Arnold. it wasn't exactly a road-legal vehicle in the U.S. and therefore, extensive works had to be done to get the papers necessary for California's roads and it was of course, custom equipped to Arnold's wishes with features including air suspension, bull bar, reversing camera, electric winch with remote, trailer brake system, quick-release handbrake, roll bar, Hella lights and a flatbed complete with a built-in bench seat for three.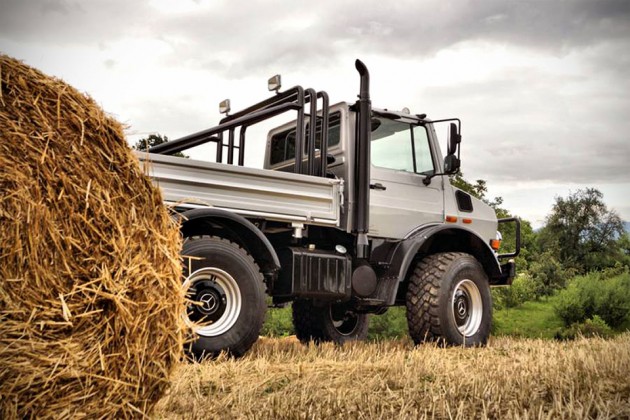 under the hood, this 1977 Unimog has a Euro3-compliant 6.4-liter turbodiesel engine, developing a cool 320 horsepower and it rides on a set of humongous 22-inch wheels shod with Michelin XZL 445/65 rubbers. while 320 hp may sounds like a lot of power (no word on the torque, though), it unfortunately tops out at around 60 mph and on top of that, it is hardly anywhere near fuel efficient, managing about 12 mpg, though being Euro3-compliant, it should be a little more friendly to the environment. and oh, it even has Arnie's signature on the dashboard, just so you know that this awesome truck was once the Terminator's ride, well, or at least one of his many rides. so what's next for Arnie? perhaps, a G63 AMG 6×6?
Arnold's custom 1977 Unimog U1300 SE 6.4 is being sold by Merex Car Sales through mobile.de and has an asking price of €208,250 gross or €175,000 net, depending on where your purchase is intended for. though we find it strange that it is being sold in Germany and not in Stateside, where Arnold supposedly resides. btw, this five-ton Mercedes-Benz Unimog was said to have been customized to a value estimated at $250,000 back in 2012.