Don't ask why a luxury sports car maker like Aston Martin wants to make a powerboat. I guess the answer will be just, because they can. Teaming up with The Netherlands-based yacht designer Quintessence Yachts, the AM37 is the result of "years of research and development" which challenges "the status quo of the nautical world." Well, we have seen the craziest boat ideas, so a boat that this beautiful is not uncommon – unless it is one that is both a boat and a car. But hey, it is an Aston Martin after all and you know what Aston Martin is all about? Luxury and performance.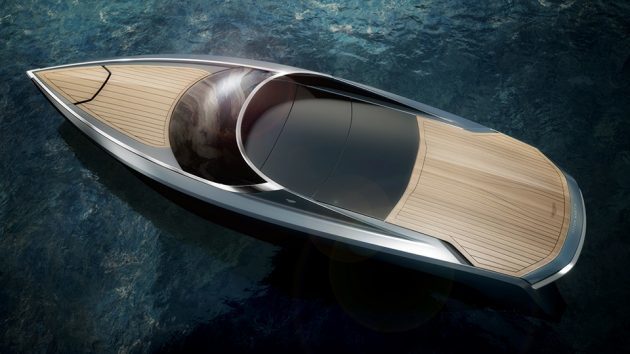 Aston Martin Chief Creative Officer Marek Reichman said the AM37 has Aston Martin's design language, but don't expect to see a DB10 floating on the water; in the lack of better words, we'd say the 'spirit' of Aston Martin was transferred from the land-going vehicles to this sea-faring example. Though the cockpit of this uber sleek boat does have hints of a car's, including a center console with display, a car-inspired leather-wrapped steering and a 'gear shift' section where you find the powerboat's throttle control. There's also sports car requisite touches like carbon fiber finish and icon of luxury: leather.
Little info was offered in the press text, so we have to draw our own conclusion from the renders and video for now. We don't have the video; you will have to catch it over at Quintessence Yachts' website, but we do have some official images though, which we invite you to drool over in this post. If renders aren't enough, then you will have to down to Milan Design Week, happening between April 12 and 18, to catch it yourself. The Aston Martin AM37 Powerboat by Quintessence Yachts is expected to launch later this year.