There are a lot of reasons why one would drool all over the new e-tron Quattro concept, including the beautiful flowing form that boasts a drag coefficient of just 0.25 and of course, an electric propulsion that offers a real-world usable 500 kilometers (310 miles) range. Speaking of electric propulsion, the e-tron Quattro concept is driven by three electric motors: one driving the front axle and the other two powers the rear axle. All told, the trio of electric motors push out 429 horsepower (320 KW), but there's a temporary boost feature, which will bump the power to 496 horsepower and 590 lb-ft (800 Nm) of torque.
Put pedal to metal, the e-tron Quattro concept makes the century sprint (0-62 mph) in just 4.6 seconds, sending it on its way to an electronically governed top speed of 130 mph (210 km/h). Feeding the electric drive is a 95 kWh battery system, chargeable with DC or AC current. In addition, solar panels are integrated on the vehicle's roof to supplement the drive system battery during sunny days. Aesthetically, the e-ton Quattro concept inherits the iconic Audi design language, sporting a 16 feet (4.88 m) five-door body with now-popular flowing, coupe-style silhouette (btw, Audi refers it as SUV. So I guess SUV, it is). There is a bunch of write up on how it gets its drag coefficient, but we shan't get into the technical bits.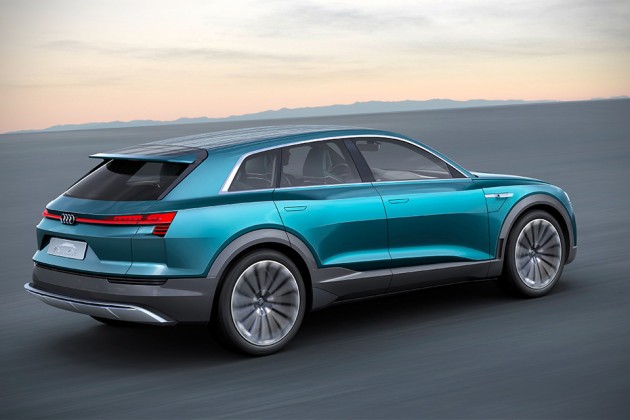 Other worthy mentions including Matrix laser technology and ultra flat OLED lights, a virtual cockpit, fully-digital instrument cluster with touch displays, contoured touch surface steering wheel, climate control, digital exterior mirrors, LTE connectivity, and Audi's pilot driving system, which comprises of radar sensors, a video camera, ultrasonic sensors, a laser scanner and data cruncher, the central driver assistance controller known as zFAS.
The Audi e-tron Quattro Concept will be making its appearance at the Frankfurt Motor Show from September 17 to 27, 2015.