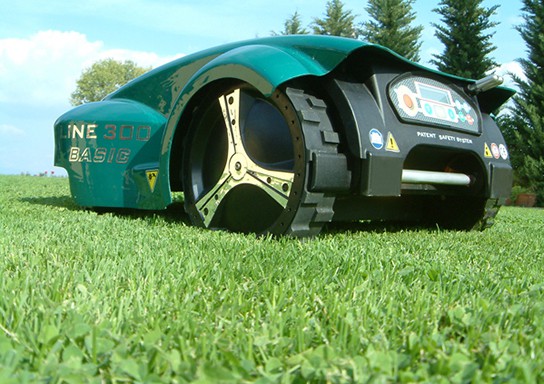 MowBot 300 | £PoA | www.mowbot.co.uk
how many times have you wished that your lawn mower could do the same like a vacuum robot? well, the MowBot does just that. there are a series of these bots from MowBots, with the 300 series being the range topping model. simply set up the low voltage sensing wire perimeter where you want the MowBot to work in and ready to deploy your bot. when the MowBot is done with its tour of duty, it will returns to its dock to recharge.
there is a range of these MowBots over at, erhmm, well MowBot. different models has different features (and different price point too). the MowBot will returns to it's charging station when the batteries are low or the schedule you have set is completed. the on board computer learns when the grass needs cutting by gauging the grass growth and length and adjusting the mowing and charging time accordingly.
in areas with heavy grass, MowBot uses a 'Smart Spiral' cutting pattern to ensure these areas are evenly cut and at the same time the blade speed adjusts according to the height and thickness of the grass. when the MowBot detects rain, it stops mowing and returns to the border wire or charging station. though the MowBot is fully waterproofed, but mowing of the lawn is best in dry condition. hence this feature was incorporated.
other features include an alarm to deter theft by those sneaky thief who tries to lift the MowBot and make a run with it. as an added security, there's a security PIN to ensure that only the rightful owner can access it's programming and operation of the MowBot. Safety aspect has not been overlooked: the MowBot will stop its blade if the carry handle is touched – just in case anyone tries to lift the 16.6Kg MowBot off the lawn while its doing its routine. why would anyone do that, i have absolutely no idea but its better be safe than sorry.
the 300 series is packed with four lithium batteries giving it enough juice to work through 6-8 hours, covering up to 5000m2. if you think automated lawn mowing isn't high tech enough, you can even control and program the MowBot from your mobile via bluetooth connectivity. that's what i call advanced. any chance of an app for iPhone?
(photo credit: mowbot.co.uk)