RC cars have its limitation. It can't get over obstacles, but B Remote Control Flying Car solves that quite easily with massive wheels and if the object is too much even for big wheels, it can always fly over them. But what if the terrain is too brutal and you would still like to traverse over it anyway? Well, for that, there's the B-Unstoppable, the world's first Tank Quadcopter Hybrid Drone. It shares the same concept as the company's first RC flying car and that is the ability to transform into a vertical take-off quadcopter at the flick of a switch found on the included 2.4GHz transmitter. However, the similarly pretty much ends there because B-Unstoppable, as its name suggest, is kind of unstoppable as a land-going vehicle – thanks to the adjustable tracks.
The tension on these treads can be changed via two flexing mechanical arms, allowing it to tackle obstacle much taller than the vehicle. If all else fails, you can skip all the hassle and zips into the sky. Obviously, this is not going to be a serious video drone. It is more like a RC hobbyists kind of stuff, but it can be outfitted with optional video camera if that's what you desire. Speaking of cameras, there are two options available: a HD DVR camera that records at 720p video on a microSD card and FPV camera setup which comprises of a CCD 720 camera, a 5.8GHz receiver, a 25 mW 5.8GHz transmitter, as well as a USB AV-in adapter, that supports real-time video streaming.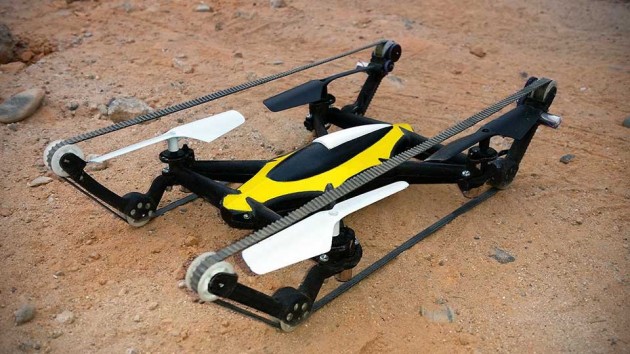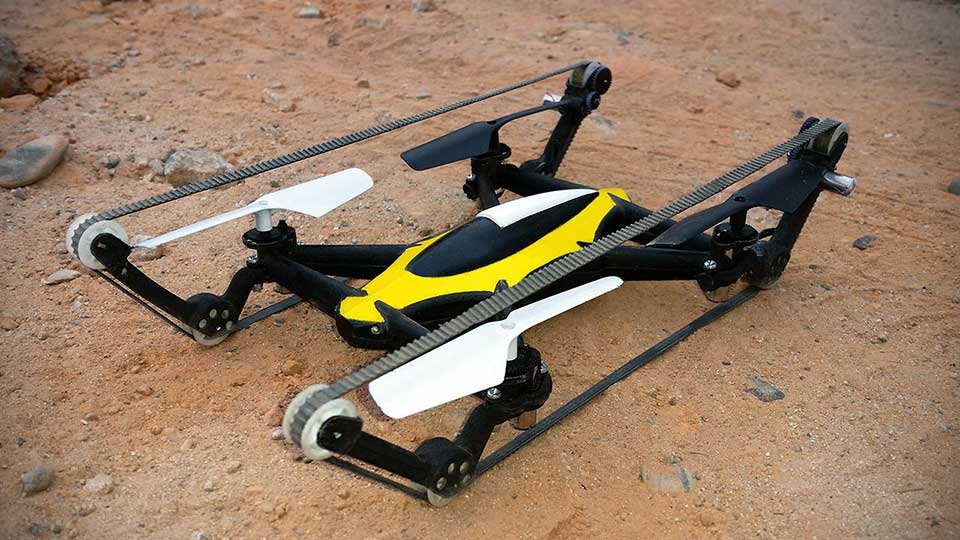 Obviously, its 84g super lightweight setup will be compromised if you were to add either one of those imaging options, but hey, what is drone today without some form of imaging device right? So, you might want to consider outfitting it with a camera if want to have a blast with the B-Unstoppable. To be fair, there is virtually nowhere a flying drone can't access and hence, we thought B-Unstoppable is more a toy than a serious aerial imager. But at this point, the prospect of a flying tank is simply too brilliant for us to think of anything else.
Impressed by B-Unstoppable Tank Quadcopter Drone? Then you may want to consider pre-ordering it from Kickstarter for £55 a pop (about US$86), san the camera, or £79 and £99 (around US$124 and US$155) for one with 720p camera and the FPV system, respectively. If all goes as planned, B will begin working on the production in September and ships them in October 2015.
via PetaPixel