Converse is over a century old and its iconic All Star named after the former basketball player and shoe salesman, Charles Hollis "Chuck" Taylor aka Chuck Taylor, has been around for ages. You can consider its design old school, employing mainly rubbers and canvas for its construction, which naturally, are the recipe to avoid during wet weather or cold winter months. Those are the times where you'd chuck your Chuck Taylor in favor of warmer and water resisting footwear. Well, there's good news. This you won't have to this year, thanks to the introduction of Chuck Taylor All Star '70 "Wet Suit" and All Tekoa Sneakers.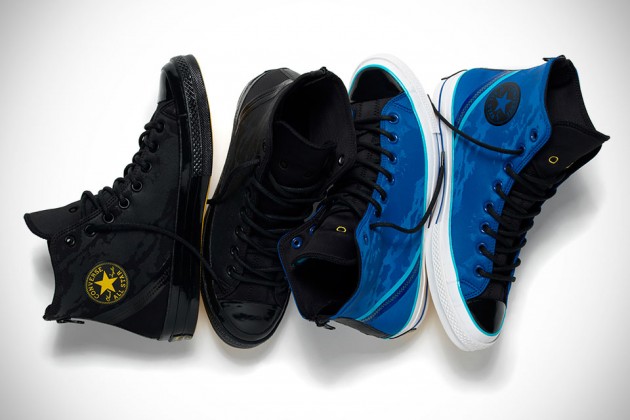 The All Star '70 "Wet Suit" sports the classic high-top design and as the product name implies, drew its inspiration from the wetsuits developed in the 1970s. It features contemporary neoprene upper, seam-sealed heel stay with fuzzed vertical zippers, a gusseted tongue, heavyweight black laces and wrapping off with gloss ankle patches, midsoles and toecaps. Converse Chuck Taylor All Star '70 "Wet Suit" is available for you taking, in exchange for $120 of your hard-earned money.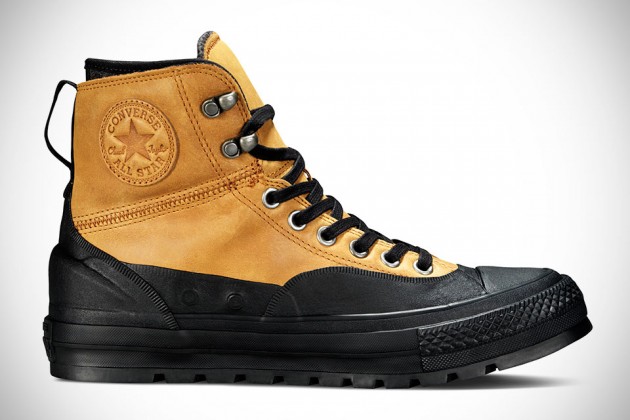 As for the Converse Chuck Taylor All Star Tekoa Sneakers, they are more like all-weather lace-up boot, but with the familiar silhouette of Chuck Taylor All Star. It boasts a strong molded heel, waxed pull-up leather, weatherized outsole, silver metal eyelets, rubber overlay exterior to keep water out, high collar design, padded gusseted tongue and finally, rounding up with traditional molded sock liner. You can pick a pair of Converse Chuck Taylor All Star Tekoa Sneakers in either light brown or black for $120.