Every new car owner will be familiar with the thick car owner's manual found in the car's glove compartment, but not many did really pick it up and study it diligently. Why? Lets face it: it is boring as hell. Unless you are already familiar with the concept of automobile workings, that book will more likely be like book on the topic of relativity. It's like rocket science. However, come later this year, owners of 2015 Sonata will be spared the dreadful tiny words of details and still be able to pick up some knowledge about the workings of their vehicle with Hyundai Virtual Guide app that can recognize more than 45 major features of the Sonata.
The app is a result of a consumer survey, which helped to determine the top "difficult-to-use" features and presented them in the app as augmented reality-aided guides. Available as a free download on Apple Appstore and Google Play, the app features no less than 82 how-to videos, over 50 informational guides and six 3D overlay images that appear when you aim the smartphone or tablet's camera at a specific area of the vehicle, such as the engine bay.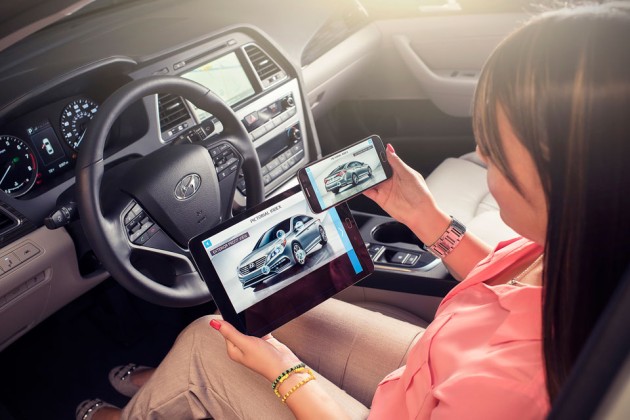 Hyundai Virtual Guide negates the need for traditional paper-based manual (but Hyundai said they are not about to ditch traditional manual for now), which most people never bother to flip the pages (as proven by near-new condition owner's manual found in most used cars), while still achieving more in terms of understanding about the vehicle that users own. More Hyundai models will be added, but for now, Sonata owners will be the first to reap the benefit of this interactive virtual manual.