What happens when scrap Vespa turns up in a Vespa-loving design studio? Well, in the case of Spanish firm Bel&Bel, they decided to give it a fresh breath of life. But in this new life, this Vespa won't be scooting along any road; instead it will be scooting around a home or office as a fully-functional and ergonomic swivel chair, dubbed Scooter Chair. That was back in 2007/08, way before the company starts rolling out Segway-style Vespa known as Zero Scooter. From then on, the company starts rolling out a new chair with improvements to it biennially.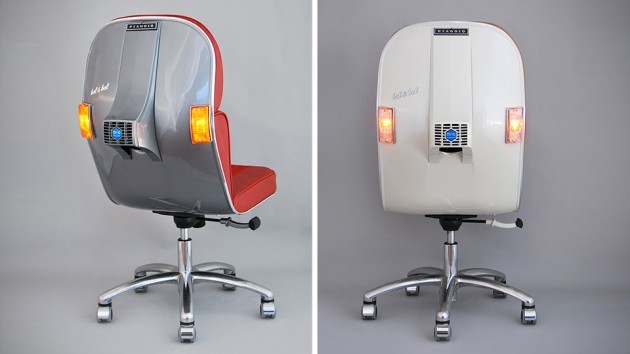 What started as BV-08 now becomes BV-14 (presumably '14' is the year, which means it was 2014), but the concept never changed. The chair are still created from restored chassis, the front panel in particular and upholstered with faux leather cushions, and finished in high-end paint works. Each chair is customizable and is offered with a handful of options such as functional indicator (or blinker), customized colors, and arms. To date, over 200 units have been sold worldwide and since each piece is handmade, it makes each of these upcycled swivel chair truely unique.
And as a proof of authenticity, each chair will be numbered and comes with its own certificate of authenticity. We noted the 'latest' series is referred to as BV-14 which, as mentioned, could mean the series was conceived in 2014. If that's true, then we are unsure if the Scooter Chair is still available for your taking. No pricing was on their website either. That said, if you really want one, it is best to touch base with the folks over at Bel&Bel for availability and pricing.