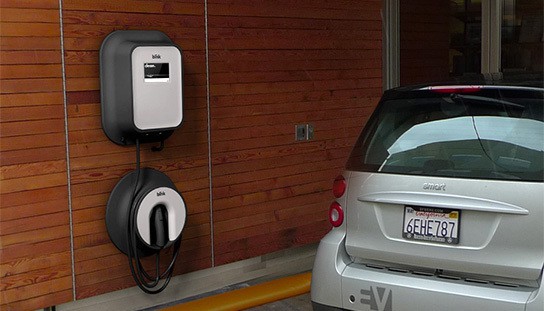 (image credit: ECOtality)
despite the emergence of electrical vehicle, there's little focus on it's associated accessories such as the electrical vehicle charger. here, in this post, are products that address the charging outlet aspect of the growing electrical vehicle trend. Blink, a brand name under the NASDAQ-listed ECOtality, has a series of charger for both residential and commercial applications. currently, Blink has two types of level 2 charger and one type of level 3 charger. so what does the level means? basically, level 2 is the standard charging method (240 volt AC input), while level 3 is the fast charging (480 volt 3-phase AC input) method which is capable of providing a full charge in under 30 minutes*. however, the DC fast charging is only for EV that has fast-charge connector built-in.
[ad#Google Adsense-text-468×60]
first in line is the level 2 wall-mount charger for residential, which can be easily installed in your garage. the unit features a SAE J1772 standard EV connector which is designed for over 10,000 cycles of use, tough enough to be run over by vehicle and safe for both wet and dry condition. it also has a touch screen, displaying information such as charge status, charge stats and history, and can be programmed to start/stop based on the electricity utility on/off peak time. thus saving you some dollars. the unit is capable of randomized auto-restart in the event of a power outage which, in my opinion is a 'must-have' feature. i'm sure we don't want to be caught with a flat battery the next morning just because of an outage in the previous night. the level 2 wall-mount charger is also WiFi (802.11g) and LAN capable, and has a 18 feet cord that can be reeled in after use.
the level 2 pedestal charger is essentially the wall-mount charger on pedestal, and can be used in both residential and any public locations. the level 3 DC fast charging station resembles the current gas pump with dual port outlets, and of course, each port has their own touch screen. on top of this, it has a 42-inch monitor incorporated into the station for media advertising with ad space available through the Blink Network. aside from the obvious electrical innards difference between the level 2 and the higher current level 3 chargers, the level 3 DC fast charger features built-in RFID for ease of payment. destined for commercial facilities, the level 3 unit's exterior graphics can be fully customize for rebranding purpose. so would we see SHELL or CHEVRON electric charging station in near future?
perhaps, in not so distant future we would see charging station like those from Blink integrated into shopping complex or maybe virtual office stations, where drivers can pop in to shop or carry out some office duties while their EVs are being charged up. dedicated gas station could be a thing of the past. however, i would love to see contact-less charging becomes a reality and implemented in public parking lots. in this way, we can just drive in, park the car and walk away knowing that our cars will be charged up without us lifting a finger. of course, it should have some form of authorization from within the vehicle to initiate the charge.