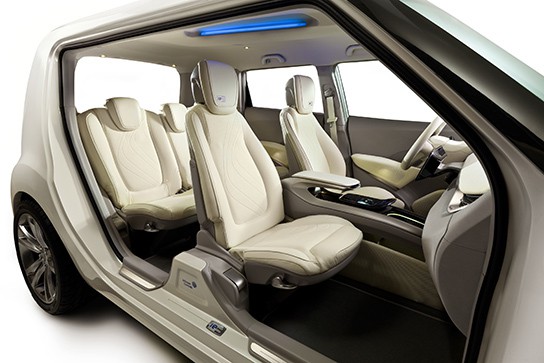 (image credit: Johnson Controls) Johnson Controls ie:3 Concept Car | US$tbc (concept) | www.johnsoncontrols.com
this will be the first. Johnson Controls, a former supplier to the auto industry, has moved forward in the supply chain by unveiling its ie:3 concept car at the North American International Auto Show. not surprisingly, it is an electric vehicle and is slated to see production by 2015. though not any time sooner, at least it is not just another concept that wows but slowly fades off into the obscurity.
[ad#Google Adsense-text-468×60]
packed under the flat floor is the Johnson Controls-Saft's next generation lithium-ion battery system which is said to give a good 100-mile range. some of the features include unique interior LED lighting, flat floor space and flexibility of space through the use of flip-seats. besides being an electric-powered vehicle, Johnson Controls has taken a step further on the green end with the use of natural fibers for seat pads that are said to be easily recyclable.
JC has taken sound system to a whole new level with the ie:3 concept by introducing a headliner with integrated audio, leaving the usual speakers spot at the doors free for other storage purposes. in place of the traditional instrument dash is "a comprehensive driver information system" relay through a 6.5-inch "transflective" cluster display with an integrated heads up display.
the ie:3 is looking and sounding good but how many of these features will actually make it to the production car remains to be seen. we have been wowed by many concepts from time to time and at the same time, we have been equally 'disappointed' by the non-realization of some concepts. we certainly hope Johnson Controls would be an exception, especially when the presented concept consists of practical features and designs rather than just fantasy.
via Core77