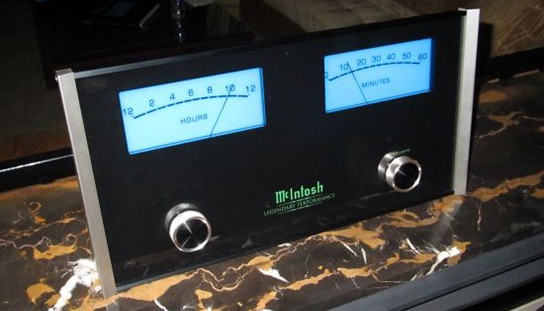 (image credit: DVICE) McIntosh MCLK12 wall clock | US$2,000.00 | www.mcintoshlabs.com
i have no idea what's the relation between a legendary audio manufacturer and time keeping but here it is, the McIntosh wall clock with an unmistakable faceplate of the McIntosh power controller. at glance from the front, it does look like the power controller with the same black glass panel and the two meters. however upon closer inspection, you will notice that in place of the amperes and volts in the meters, are the hours and minutes. so it is a clock after all. really?
it will probably goes into the "must-have" item for die-hard McIntosh fans but looking suspiciously similar to the power controller will cost you $2000. ouch. this could be the most expensive wall clock ever (not including those antique clocks, though).
via DVICE