If you have a truck load cash for just one performance vehicle, you probably want a car that designed for everyday road, as well as race track. Make sense, right? Who doesn't want to make stretch the dollar whenever possible? Ok, maybe not. Scrooge McDuckians can go ahead and buy as many as they want, but for the rest, with one-car only budget, then the BMW Concept M4 GTS may sounds like a brilliant proposition. Presented at the Monterey Car Week in California, the BMW Concept M4 GTS is the track-capable variant (albeit still a concept) that aims to "fulfil its purpose as a successful track machine," but yet serves as a high-performance road car.
What goes under the hood is unknown at this point (we presume it is what the M4 Coupe has), but what we do know is it incorporates an innovative water injection system that has proven to enable significant output and torque boost in the BMW M4 MotoGP Safety Car. Here's how it works:
"The water is injected into the plenums of the intake manifold as a fine spray. When the water vaporises, the intake air cools significantly. As a result, the final compression temperature in the combustion chamber – and therefore the engine's tendency to "knock" – is reduced, enabling the turbocharged engine to use higher boost pressure and earlier injection timing."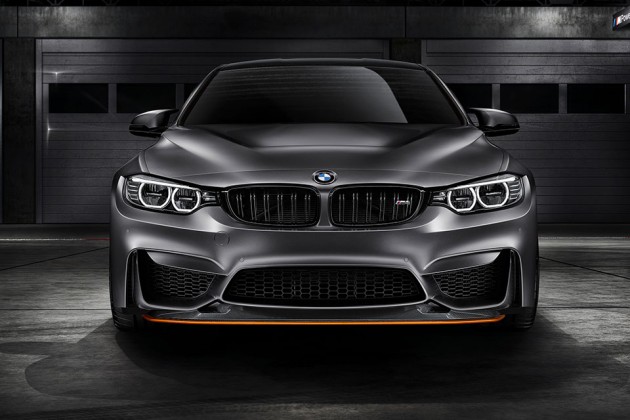 Not does the system bumps the output and torque, it will also reduce the thermal stress on performance-relevant components, which leads to enhanced stability and durability of the force-induction engine. Other highlights include manually adjustable front splitter and rear wing in exposed carbon, CFRP hood, airflow optimization and reduce front axle lift through wide front air intake, lightweight forged light-alloy wheels wrapped in Michelin Sport Cup 2 rubbers (265/35 R19 front, 285/30 R20 rear) and OLED rear lights that affords full surface and homogenous illumination as opposed to single point of light emission of LEDs.
At this point, no words if the concept will be dropped from the BMW Concept M4 GTS, but looking at its namesake, we'd say it is just a matter of time and perhaps, how many will be made if it gets the green light from the top brass.