Toothbrush is an everyday object we use at least twice a day and we pretty much don't give a damn about it until it is time change. But according to some studies, we really should give a damn about these bristle-packed oral hygiene tool. Why? Because it shares the same space as the god damn toilet, that's why. According to a study, there's a 60 percent chance of your toothbrush is covered in fecal matter (yes, that's poop!) – thanks to the act of flushing each time a person is done with dropping the kids at the pool. The flushing ejects droplets and vapors naked to human eyes onto the floor and in the air, with the latter eventually reaching the tool that we put into our mouth. That's one good reason to keep the lid of the toilet close when flushing and also, keep your toothbrush's bristle encased in toothbrush case such as Brushield.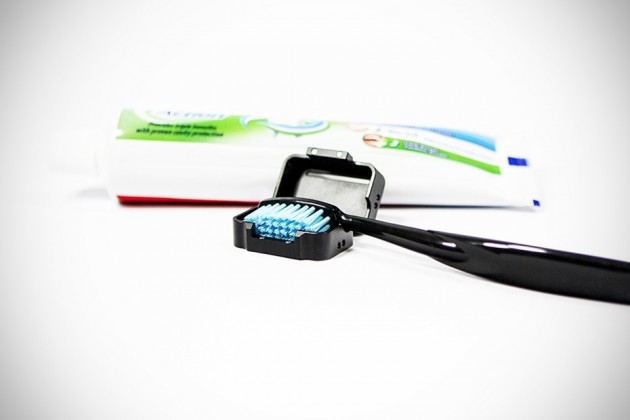 There are a myriad of toothbrush cases out there, but this particular case from San Diego-based startup is not just any case; it is the world's first anti-microbial toothbrush case that's designed to combat invisible nasties that tries to invade the bristles. Not only does it keeps potential 'flying poop' from coming into contact with the toothbrush, but it also inhibits the growth of germs and is effective up to 99 percent at killing bacteria on the surface. Additionally, strategically located grooves and water evacuation holes allow the bristle to dry out while encased, so germs and bacteria won't have a cozy place to flourish. The case is crafted from aircraft-grade aluminum for durability and features a magnetic locking system to prevent it from opening unexpectedly.
If you went "yewwww" more than once when reading this post, then I supposed this most hygienic toothbrush case is for you and if that's the case (pun not intended, really), then you may want to pick one up as a pre-order on Kickstarter for $29 a pop. Delivery is expected to happen sometime in April 2016 and yes, it is already funded, so it is a pre-order. Keep going for the product promo video and also catch a clip on how germs get from the toilet to the toothbrush.
submitted via TIP US page.