once in a while, a scooter comes along that really gets us excited and the Cezeta Type 506 Electric Scooter is one such scooter. if you think the Type 506 looks somewhat familiar, well, it is because it is based on the reborn Czech Republic (formerly Czechoslovakia) scooter maker's Type 501 and Type 502 scooters, which together with the 505, were the only three scooters they ever introduced before ceasing scooter operations back in 1964. but that turns out to be a hiatus as the folks has resumed their scooter production last year with the introduction of the hand-built electric version, Type 506. at a glance, it has a body identical to the Type 501 and 502, sharing the same futuristic, torpedo-like design with a low center of gravity and double seat.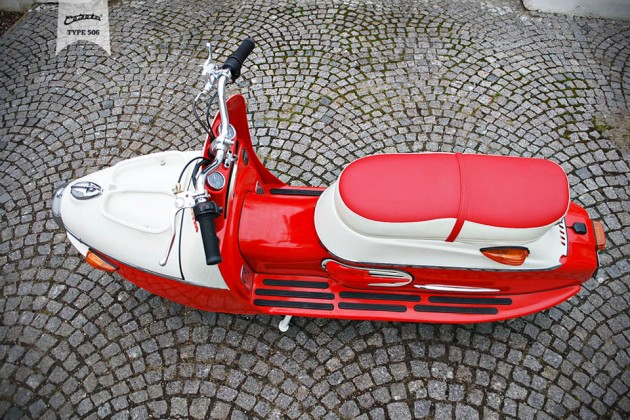 however, the similarity ends right about there cos' under the hood, it now has an environmentally-friendlier drivetrain, a sealed electric hub motor kept juiced by a 4.8 kWh Lithium Yttrium Phosphate (LiFeYPO4) batteries. the battery pack, when fully topped, gives up to 52 miles (85 kilometers) of range and it takes 4-5 hours to get it to full charge via a regular household outlet. if you need more range, there is an optional regenerative braking which could add about 5-10 percent to the range. no word on the top speed, but according to Cezeta, the top speed is configurable to meet the buyer's country minimal motorway speed requirements. interestingly, the scooter is touted as a fully-programmable ride that allows you to tweak the top speed and acceleration, simply by plugging in your laptop. as far as we know, this is probably first electric scooter in the market that allows you to do that, which is pretty cool if you ask us.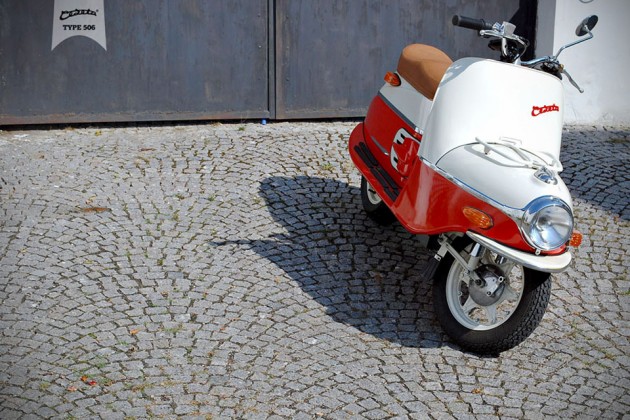 other details include onboard cell balancing, safety cutoff upon battery full charge, storage pockets for small items, a front fender-mounted rack (for your briefcase or other cargo such as a six-pack), instrumentation including battery gauge, hand-operated rear disc brake and a cute, chunky tire for decisive stops when applying the brake. and oh, it seats two, with the pillion getting proper hand and foot rails. the Cezeta Type 506 Electric Scooter is available for order now, but delivery is not expected until end of 2014 and early 2015. as for price, it is 'competitively' priced, starting at €9,450 for the base model. if you dig retro-futuristic look, this is for you.