you have seen an electric car, a MINI, and even a Ferrari, chopped and turned into a pickup truck, now meet another beautiful example that's converted from a classic 1971 Mercedes-Benz 220D. granted that this particular example being put up for sale by South African car sale outfit, Sedgefield Classic Cars, is not the first Mercedes-Benz sedan to be converted into a truck, it stands out as one that is powered by a slightly modern Lexus V8 power plant, mated to an automatic transmission. as to who was the donor of this engine and transmission package, and which year the engine hails from, are unknown. so, why would anyone wants a Japanese car engine in a continental ride? well, because whoever first did the chop can.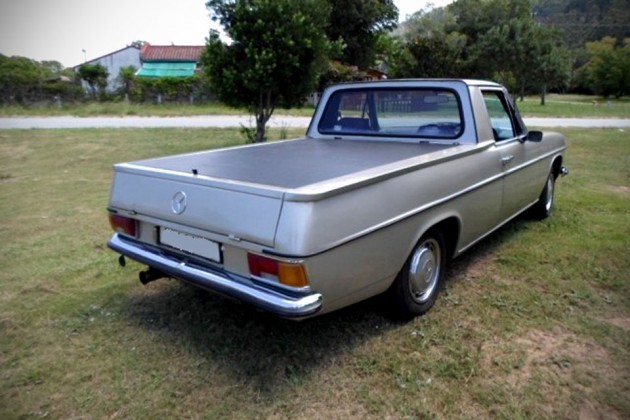 apart from being "professionally converted", has a large bed complete with a tonneau cover, has "good paintwork and interior", and "drives very well," little is actually known about this awesome custom pickup truck which is currently listed for 75,000 South African Rand, or about US$6,780 based on the current going rate. if you are up for it, you can hit up Sedgefield Classic Cars' website and request for more information. but before you do so, perhaps you would like to know that a Mercedes-Benz 220D pickup on the W115 chassis was built briefly in Argentina in the 1970s. that said, we are not sure if this "professionally converted" was even actually converted or was it part of the small batch made in Argentina.
we are not even sure if it is the W115 or it could very well be the earlier W114. there is really no telling until you get someone professional to look under the hood and examine the chassis. nevertheless, it is still a rare ride which should appeal to custom truck lovers, especially those with a taste for the continental.