tube amp is definitely not new and so is sound dock. in fact, the latter is a little passe these days if you ask us, but that won't be the case with the Lampion High-end Tube Amplifier + Sound Dock designed by Stefan Radev for a Danish start-up. sound dock by itself is, as said, is a thing of the past, but what Lampion High-end Tube Amplifier + Sound Dock has to offer is more than a sound dock. yes. it has docks for Android or iOS devices, but it also supports wireless audio streaming, along with RCA connectors and a pair of 3.5mm line-in audio jack. on top of all that, it has a tube amplifier, outputting 20 + 20 watts of audio and the device can be hooked up with external speakers or headphones, through a set of RCA jacks and a 1⁄4" headphone jack.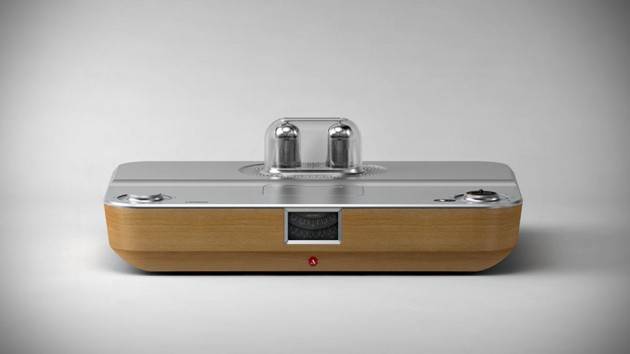 on the design aspect, Stefan Radev chose to go with aluminum for its excellent heat dissipation property and wood to reflect the warm sound associated with vacuum tube amplifier. naturally, the top and the bottom, where heat diffuses through, are of aluminum. additionally, perforation surrounds the vacuum tubes enabled the high-heat circuitry beneath to dissipate heat more efficiently. the sides are intentionally 'curl' up to further aid the cooling process. the vacuum tubes that sits atop is protected by a glass enclosure with the top cut open for ventilation and the edge of this ventilation slot is reinforced by an aluminum bezel.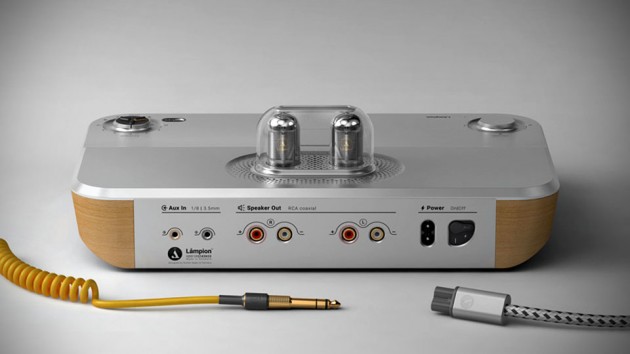 also on the top is the dual dock, hidden away by a cover that keeps the device sleek and neat when the dock is not in use, and two dial controls: one for the volume and the other, balance adjustable and mode for choosing headphone, wireless, line-in et cetera. and finally, a lone dual audio meter wraps up this super sleek package. refer to as a hybrid device, the Lampion High-end Tube Amplifier + Sound Dock can be part of your high-end system or use as a standalone device, which together with the few connectivity option offered, makes it a versatile piece of audiophile equipment.
unfortunately, there is no word on when it will be available. we tried searching for this Danish startup, which we assume to be Lampion, but it turns out nothing. if you have any info, we will be glad to hear from you folks. keep going for a few more looks.