Death Star is a nasty faux Moon that is capable of obliterating smaller planets to oblivion. It basically spells death and hence the name. However, this Death Star here is a miniature replica that will do a lot less harm than the actual thing. In fact, it is one Death Star that both Imperial fanatics and rebels could love (or maybe not), as it does not include the fearsome, takes forever to power up, Concave Dish Composite Beam Superlaser. Instead, it is designed to pump out 3W of mono audio, fed either wirelessly via Bluetooth connectivity (supports Bluetooth 1.1, 1.2, 2.0, as well as 2.1+EDR enabled devices) or through the standard 3.5mm audio out jack.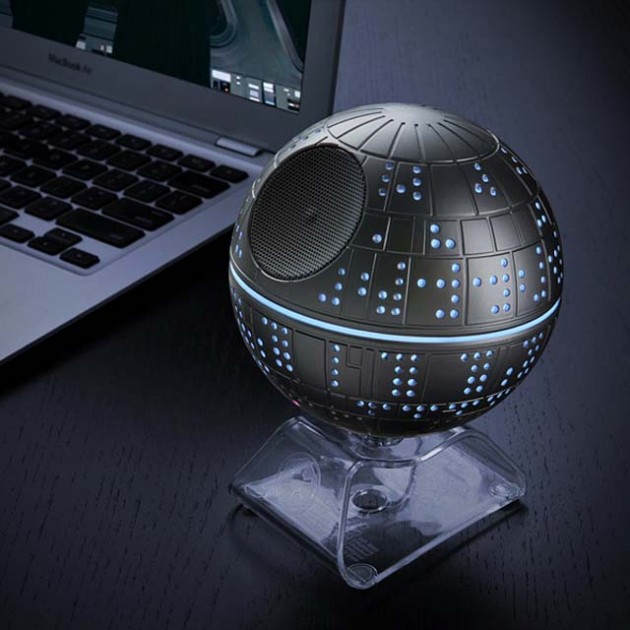 It packs a lithium-ion battery pack that's not to power any killer laser, but to provide you audio playback for up to 8 hours per charge. Other notables include wireless audio streaming from up to 30 feet away, speaker lights up when in use, acrylic stand for the floating look in the dark, auto-link button for quick Bluetooth pairing, 100Hz to 16,000Hz frequency response, and LED charging indicator light. Also, this is not any Death Star, it is an officially licensed Star Wars merchandise.
Unfortunately, it appears that while waiting for some awesome images to arrive in our inbox, the Death Star Bluetooth Speaker went out of stock, well, at least it is on ThinkGeek. Bummer. To rub salt into the wound, there is not estimated restock timeline given and so, we're not sure if it will be back in time for this holiday season. ThinkGeek was selling it at $59.99, but if you really want one, there are some stocks left on Amazon, albeit at a pricer $64.24. Well, its your call. In any case, we would like to invite you to check out ThinkGeek's own hilarious promotional video down below.
P.S. You are not obliged to play the Imperial March anthem and also, Darth Vader, Stormtrooper costumes are entirely optional, but it will be fun if you have those too. Just saying…