If you take your selfie, be it still or video, very seriously, then an image with your face occupying 90 percent of the photo is far from perfect. You can always improve the situation with selfie sticks, but we'd say an imaging drone, such as the ZANO you see here, is the way to go – more so when it cost just £139 (around US$220), which is probably cheaper than a regular digital camera. ZANO is no bigger than a DSLR; it tips the scale at a measly 55 grams or 1.94 oz and measures a minuscule 2.5 x 2.5 inches (benchmark: fits right in your palm!).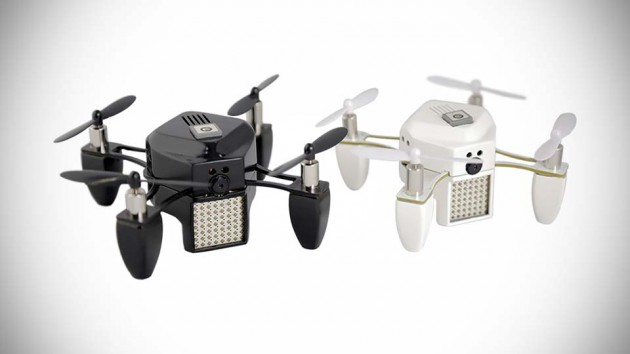 Despite its minuscule stature, it is no less laden with sophisticated tech, including a 5MP HD video camera with digital image/video stabilization, IR obstacle avoidance, echo sounding sonar and high resolution air pressure sensor for altitude control, onboard microprocessor, built-in WiFi, 2W class D audio amplifier, high sensitivity digital microphone, user-replaceable rechargeable battery, colored landing lights, bidirectional motors, and last but not the least, a super cool, 8×8 pixel front display that supports animations, icons and also doubles a flash. Yes. A flash for an imaging drone and that's got to be the first for a vehicle of this size.
The onboard battery is good for between 10 and 15 minutes of continuous flight time, and the craft itself has a range of up to 100 feet and tops out a 25 mph (40 km/h). Apart from selfie, which the digital display will show a count down timer so you know when to put up the best smile, it can be use to capture your action moments. ZANO is completely autonomous, it is wirelessly tethered to your smartphone and can be setup to record in a fix position or follow you, all the while avoiding obstacle as required. It is pretty intelligent piece of equipment and if all that were promised are delivered, it could very be the most advanced imaging drone of this size.
But those are just the basics. ZANO is designed to be "updateable", meaning new capabilities can be added whenever they are available. Some of developments in the pipeline are facial recognition, panoramic imaging, and swarming. I must say it all sounds pretty exciting, but perhaps the most exciting thing is, ZANO can be yours to own in June 2015 – all you have to do is pre-order it from Kickstarter. Check out a product video below for more information.