Do not underestimate multi-tier shelving. This simple furniture is deceptively, well, simple, but putting them together can be quite an undertaking and that's not to mention all your effort is for something rather mundane. With the Ruche Shelving Unit, however, it takes an entirely different twist to shelving design. First by being super easy to assembled by anyone in just five minutes, and second, it is completely fastener-free. This means, it requires no glue or screws to hold it together. And did we mention that it is an isostatic structure and so yes, it is a multi-tier shelving system that boasts seven separate spaces for your items.
Being an isostatic structure, it is therefore super strong and is capable of holding up to 176 lbs (80 kilograms). Though it is worth noting that the maximum load of the shelf is depending on the size and material chosen. Speaking of which, the Ruche Shelving Unit is available in two materials, cardboard and aluminum, and three sizes, S, M and L. The cardboard variant is made from recycled, double-layer and factory-reinforced cardboard, and the aluminum version is of laser cut recycled aluminum sheets, treated with anodized coating for aesthetic enhancement and durability. Only recycled materials are used and needless to say, they are totally recyclable at the end of their product life.
Additionally, every shelving unit comes flat packed to reduce the carbon footprint required to get it to you. As for the use, it is only limited to your imagination, but here's some of the suggested uses include shoe rack, spice rack, bookcase and more. Ruche Shelving Unit is not available yet, but you can pre-order one through its Kickstarter campaign for as low as $30. But it will only materialize if it gets enough support to hit its funding goal in the next 13 days, so if you love to see it happen, then make sure you show your love by backing Ruche up.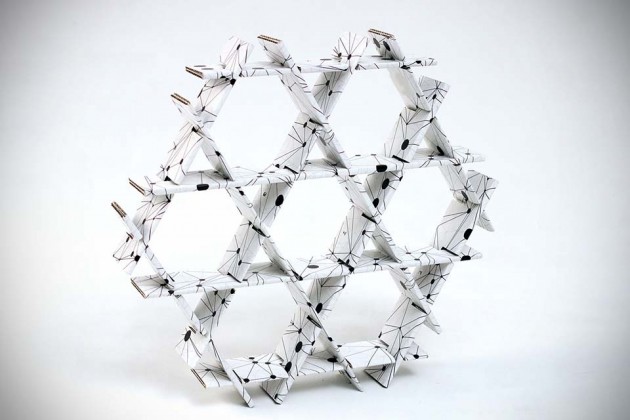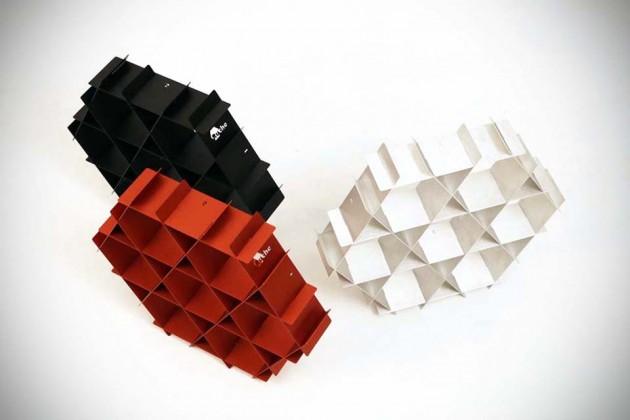 submitted via TIP US page.