Quell your excitement folks. What you're looking at here is a 2015 Forester tinkered by Subaru Tecnica International and NOT, I repeat, NOT a Forester STI as one might have expected at this point in time. That means, sitting under that beautiful, sculptured hood of this Japan-only Forester tS is not the revered 2.5L turbocharged boxer found on the WRX STI nor is it the sprightly 296 hp 2.0L unit from the WRX S4, instead, it made do with a 2.0L DIT turbocharged unit that still offers a decent 276 hp and 258 lb-ft (350 Nm) of torque. To rub salt in the wound of Subby enthusiasts, stick shifter is out of the question for this largely family-orientated SUV.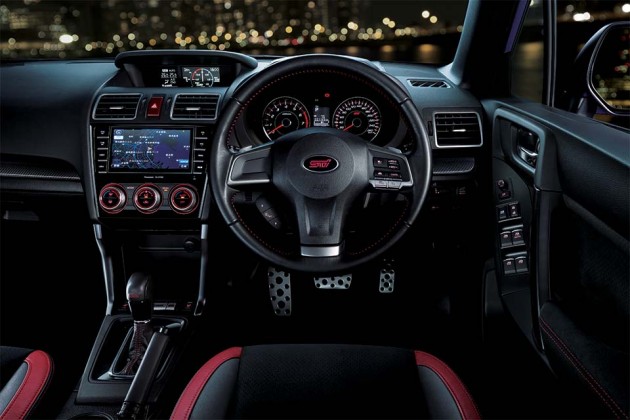 Having said that, Forester is never a boy-racer car (and never will be), and therefore it is fitted with a more family-friendly Lineartronic gearbox, which is tasked to send those power to all four wheels. That aside, it also gets exclusive tuning the "S# (sport sharp) mode" for "SI-DRIVE", plus goodies like STI-branded Brembo brakes, and BBS-designed 19-inch forged aluminum wheels, shod in 245/45 R19 tires. Being a STI handiwork, it is only natural that the tS has a galore of STI and other goodies buried under the hood, including tuned suspension that sits 15mm lower, tuned ECU and TCU, CVT oil cooler and more.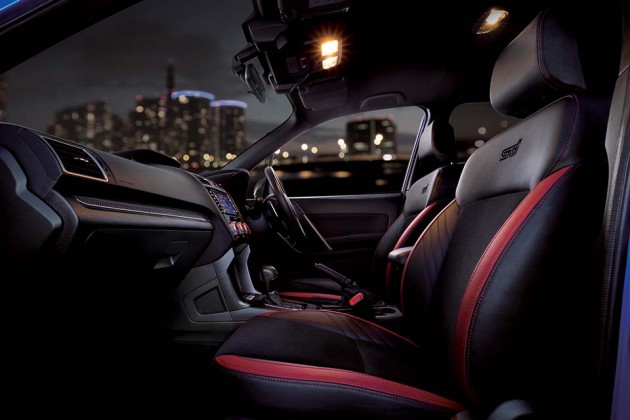 The exterior and interior also received its fair share of go-fast bits, including exclusive black front grilled with STI badge, STI-designed front and rear under spoilers, black roof spoiler, large-diameter muffler cutter, metallic silver fog light bezels, black door mirrors and side window moldings, specially tailored 260 km/h luminescent speedometer with STI logo (but of course) and multifunction display, leather bound steering wheel with red stitching and STI emblem, STI red ignition button, leather wrapped gear knob, "Ultrasuede" seats with red stitching and accents, carbon decorated instrument panel and the list just go on and on.
You will also find safety standards like exclusively-tuned EyeSight and also Vehicle Dynamic Controls. Despite being a "lesser" STI-badge Forester, it is still our regrets to inform you that only 300 of such fine examples will be made, with pre-order to be made by April 5 (2015), and perhaps the biggest disappointment is, it will be only available to folks who have 4,350,000 Yen (approximately US$36,800) to drop and resides in the Land of the Rising Sun. Bummer. But I think the auto transmission kind of ease the pain a little for us. Not sure about you, tho.