The problem of smartphones not having enough battery has long been addressed, but at the expense of traveling light. Heavy users of smartphone can never truly enjoy traveling light because they have at least a portable battery to carry with them. Nifty, the folks who brought to you MiniDrive, has a brilliant solution that will end this woe and it is called XOO Belt. Yes. A belt. It goes by the rationale that since most people wears a belt, why not make it charge your smartphone as well? And that's what XOO Belt is: a smartphone-charging belt. And thankfully, it won't have a buckle the size of a portable battery, instead, it uses a clever battery technology known as ceramic polymer flexible battery and line them, overlapped, along the length of the belt.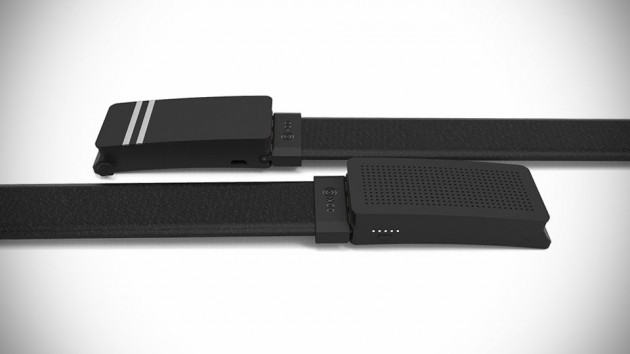 The result is a flexible battery cell that packs 1,300 mAh worth of juice that is totally dry, weather-resistant and will continue working even if it has been truncated, packed discreetly into what looks like a typical leather belt. The snazzy buckle, where the brain of the charger is located, packs another 800 mAh, thereby effectively putting 2,100 mAh of standby battery right on your waist. To get the belt ready for charging, just pop the supplied low-profile micro USB-to-USB charging cable into the belt and keep it concealed until you're ready to use. The real kicker here is concealment. The cable and battery are virtually invisible when not in use and when you need that extra juice wrapped around your waist, just flick down the cable, plug it into your smartphone and slips your device back into your jeans' front pocket. Easy peasy.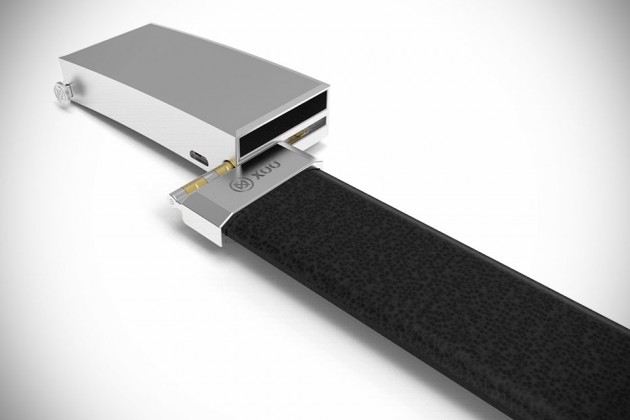 XOO smartphone-charging belt is compatible with iOS, Android and Windows devices, all you need is to get the right cable and you're all set for a discreet, hands off charging. The 2,100 mAh electrons is good for one full charge for typical smartphone and in the case of the iPhone 6, it does so with some balance left over. Also incorporated into the buckle are LEDs indicating the battery status, so you'll be in the know roughly how much juice is at your disposal. The belt buckle is designed to be swappable, which means you can have a different design buckle if you so choose, or (this may sounds a little silly…) have an extra in your pocket in case you needed an extra dose.
The belt is of vegetable tanned leather and the buckle features a ratchet system for precise 1/4″ adjustments, along with a quick release mechanism for super quick belt off. Two models are available: the regular Classic XOO Belt and the Casely-Hayford Collection, which is a collaboration with Casely-Hayford fashion house. If the idea of a smartphone-charging belt appeals to you, you can pre-order it from Indiegogo where $125 will score you one Classic XOO and $155 will get you the Casely-Hayford model with your choice of belt and buckle from the Casey Hayford line.