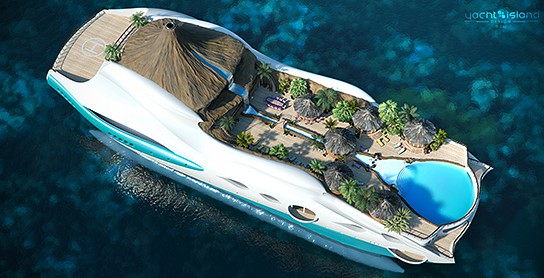 (credit: Yacht Island Design Ltd)
from the folks who brought to you the breathtaking Streets of Monaco Superyacht comes another epic concept, the Tropical Island Paradise Superyacht. geared towards the super rich who is not content with owning just an immobile island, the 90-meter (295-feet) long Tropical Island Paradise Superyacht resembles a floating island complete with a non-functional (thank, goodness) volcano, a swimming pool center around a beach setting and cabanas. just about the right setting that you would find in any tropical island resort.
[ad#Google Adsense-text-468×60]
included in this luxury setup are four VIP suites, an owner's suites and usual amenities like library, cinema, gymnasium, spa, and as well as games room. the captain's bridge takes the form of the volcano with water, instead of lava, flowing down to join the swimming pool. even though it is a concept, it is still quite a sight to behold. on the stern's open air deck is a helipad that offer yet another way for you to reach the yacht whist at sea. the lower stern opens up to a beach deck which allows travelers to access the sea for various water sports and just about any sea level recreation and relaxation activities.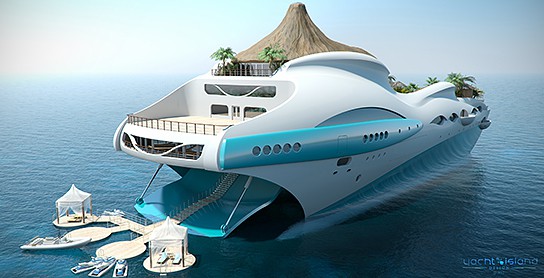 (credit: Yacht Island Design Ltd) access to sea-level recreation via the deployable beach deck
every super rich has their own vision what their island superyacht should be and so the good news is, Yacht Island Design could make your dream come true. all you have to do is contact Yacht Island Design, and as part of your own ground work – make sure you have a couple of bursting bank account. while you are taking time to save up enough dough for one of these, why not hit the jump and join us for a few more images of the Tropical Island Paradise Superyacht?