Imagine going out for a ride on your bike to explore the city and deciding you'd save yourself a trip by picking up supplies for the weekend while on your way back but ending up with bags on the handlebars. But you won't have to if your pedal-powered two-wheeler is the Convercycle. What looks like a regular step-thru frame bicycle is actually a cargo bike too when needed.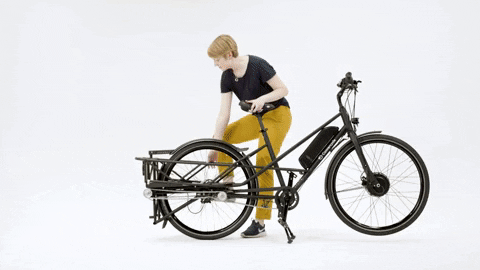 The unusually complex-looking rear of the Convercycle allows the rear wheel to unfold rearwards – without tools and in one swift movement – transforming it into a cargo bike with a 40 x 60 cm (15.7 x 23.6 inches) basket size with a max payload of 80 kilograms (176 lbs). Overall, the bike has a max. permissible weight of 180 kilograms (396 lbs). So, yeah, the bike alone is capable of handling up to 100 kilograms (220 lbs).
It gets even better. The Convercycle 2-in-1 City and Cargo Bicycle is available as a pedal-assist electric version for riders who prefer not to torture themselves by pedal-powering all the way home while loaded with 80 kg of goods.
While the pedal-power version has a geared hub, the pedal-assist model features a 250 W Bafang FM G020.250.D brushless front hub motor that produces a healthy 45 Nm (about 33 lb-ft) of torque and can get up to 25 km/h (15.5 mph). It is paired with a 36V 11 Ah removable battery with an LED display that provides a 60-65 km (37-40 miles) range on a single charge.
Common features include a steel step-thru frame suitable for riders of 160-200 cm (5.3-6.6 feet) height, reinforce aluminum bipod stand, hydraulic disc brake front and back, 28-inch wheels with Schwalbe Marathon tires, horizontal dropouts for hub gears and disc brake mounting, mudguards (rear adjustable and front fixed), Trekking/Cross fork shaft 300 mm (steel), and front and rear lights powered by Shimano front hub dynamo or supply by eBike system in the case of the pedal-assist model.
But such awesomeness does not come cheap. It will run you back €2,899 (around US$3,201) for the standard model or €4,299 (about US$4,747) for the electric aka pedal-assist model.
Images: Convercycle.