Hunting is a controversial subject, but that's not going to stop us from featuring this new, super cool air-powered bow called Crosbow Pioneer Airbow. Billed as the "all-new category of big game weapon," Crosbow Pioneer Airbow is based on Benjamin's PCP platform and uses 3,000 PSI of compressed air to propel the accompanied nano ceramic Victory ICE coated 375 grain Benjamin Airbow arrows at 450 FPS. It touts easy cocking with two fingers and it is capable of unleashing 8 shots in the amount of time it takes to fire three from a crossbow.
Pioneer Airbow pride itself as a big game weapon that's safe and accessible to everyone. In addition, the arrows fired are quickly stabilized, affording shooters an expanded kill range and accuracy will not affected by canting. Best of all, it negates the need for complex maintenance like crossbows do. Other worthy mentions include integrated pressure regulator for 8 consistent shots, ambidextrous top cocking bolt, adjustable CenterPoint 6x40mm scope specifically designed for Airbow, a canted Picatinny base with 20 MOA of additional adjustment options, and finally, it sports a Bullpup configuration that measures 33.5 inches (85.1cm, quite typical of a Bullpup weapon) and tips the scale at 7 lbs (3.18kg, a tad lighter than most assault weapon, if you are wondering).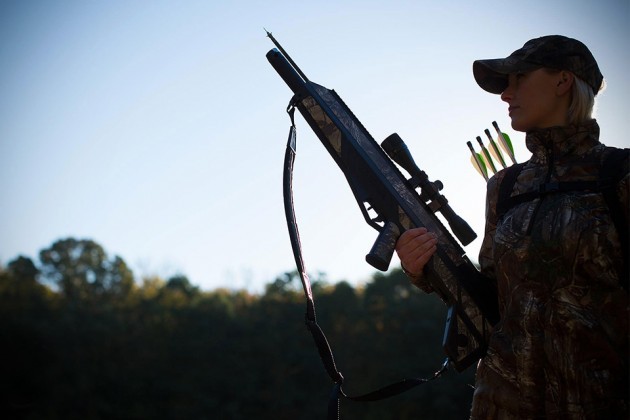 Crosbow Pioneer Airbow is open for pre-order, priced at $849. Each Crosbow Pioneer Airbow includes Realtree AP camo decals and three custom arrows with field tips, sling and quiver. In addition, all pre-orders will receive your choice of six additional arrows or custom case. Note: it is your responsibility to ensure that big game hunting is a go in your locality.