Most tablets (or any devices for that matter) had their usefulness terminated as a result of accidental drops. While we can't prevent such unfortunate mishap, we can mitigate it with rugged cases, or for the extreme butterfingers, perhaps opting for a rugged tablet like the CTL 11.6-inch EG2 Rugged 360-Deg Flip Windows Tablet. New from CTL, this laptop/tablet hybrid features a 360-degree hinge that lets it convert from laptop to tablet and vice versa. It is IP5X certified for resistance against dust and ingress and has been drop tested from up to 70cm on concrete floor.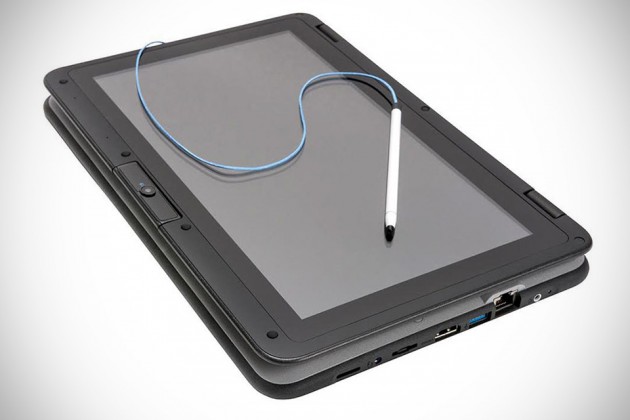 A fanless design also helps make things less complicated when suffering from a drop and also, enable a whisper quiet operation. Spec-wise, don't expect super tablet/laptop performance though. Powering the clockwork is an Intel Celeron N3000 chip with up to 2.08GHz, paired to 2GB DDR3 RAM and a 2.5-inch SSD. Other details include a 1,366 x 768 5-point capacitive touch display, Bluetooth 4.0 technology, wireless 802.11 b/g/n, one USB 2.0 port, one USB 3.0 port, a microSD card slot, HDMI output and a combo audio jack. It looks like it lacks LTE radios, so this rig is likely destined for WiFi-enabled areas.
Looking at the spec, it is more laptop than a tablet, but either way, not everyone will get to enjoy the benefits of CTL EG2 as it is only available to qualified education customers, well, at least not if you want to enjoy the special sticker. CTL EG2 retails for $529 a unit, or $349 for "qualifying education customers". The latter comes pre-installed with Intel Education Software including McAfee AntiVirus Plus/Mobile Security, Intellisense Lab Camera, SPARKvue, ArtRage, Intel Education Access Management, Intel Education Media Camera and more.