In this modern time, most urban road warriors will have three devices: a laptop, a tablet and a smartphone with them, which can be quite a chore to be lugging around, to be honest. What if there is one device that does the job of all three devices? Sounds like an impossibility? Well, apparently, not to the folks at Idealfuture. We don't have much info about the outfit, but their product which they are pushing on Indiegogo is inline with the company's name: a single device that serves as three devices is indeed an ideal future and a gargantuan undertaking, if might add. Anyway, lets get on with what their device, called Dragonfly Futurefön, has to offer. The device is made up two parts: a removable right screen which, when removed, is a phablet known as Slingshot, and the rest of it with the phone out of the way, is refer to as the base. Put the two together, it becomes a super portable laptop i.e. Dragonfly Futurefön running on either Windows or Android OS.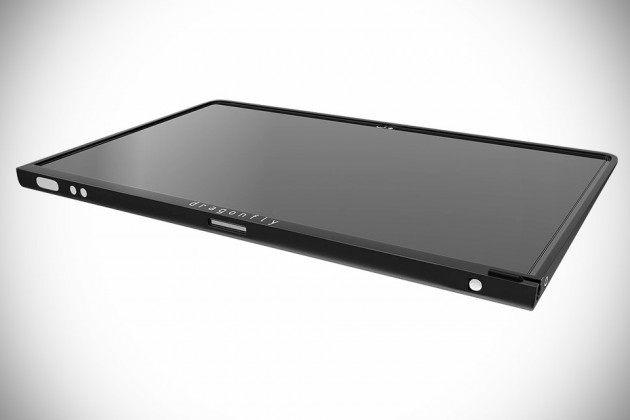 As a laptop, or as the outfit refers to as "dual display mode", it will have full-size keyboard, stretching across the two side-by-side screen that provides you with dual 7″ Super AMOLED displays, boasting 2,560 x 1,440 resolution. That's a mind-boggling 5,120 x 1,440 resolution combined and over 12″ diagonal. It even has a low profile keyboard that hides a retractable touchpad. Up to this point, if you're thinking it is too good to be true, then you have yet to hear more. There is also a travel mode, which folds into a small factor, letting you use as a tablet. And then there is the "Slingshot Detached Phablet Mode" that lets use the "Slingshot" itself as a phone, albeit a super huge one. The company said they already have prototype, but processors information are still unavailable.
We only know that the phone will have "the fastest multi-core processor", while the base will run on a "multicore x86 processor". It will also get 4GB RAM each on the phone and the base, plus dual batteries, with the handset getting 3,200 mAh pack and the based getting "a large capacity system battery." Other promises include dual LTE antennas, dual OS, up to 128GB storage on the handset and 128GB or more on the base, two SD card slots, built-in front and rear-facing cameras, and a smart stylus. After going through the lengthy pitch write up on Indiegogo, we have mixed feelings. While it sounds like a probable product, we're wary if an outfit not the size of the likes of HP or Lenovo will be able to pull it off. But that's for you to decide.
If you're convinced by Idealfuture proposition, you can pre-order yours starting at $599. As for shipping, the company is targeting late Q1 to early Q2 2015. A surprisingly early delivery date, considering the undertakings. Scroll down for the pitch video.