In a short few months since the revealing of the real-life functional hoverbike, Hoversurf has apparently secured a deal to provide Dubai Police Department with the company's low altitude flying machines for cop duties. However, don't expect the Hoversurf to do pursuit duties though. It obviously won't cut it in several departments. This ain't no real-life The Fifth Element, yet. The Middle East kingdom's police department has better vehicles, namely Bugatti, that will do better than zipping at 43 mph (70 km/h), albeit not sixteen feet in the air, and the Bugatti can definitely do a lot more than 25 minutes run while carrying way more than 660 lbs (300 kilograms) of gear.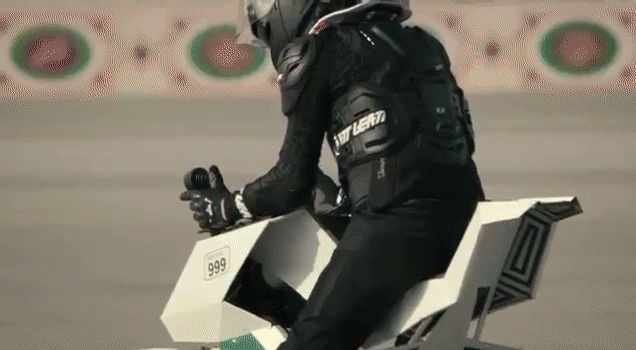 The hoverbike's usefulness will be fully realized when traffic stands between the police and the scene of emergencies. In other words, it is a first-responder vehicle which, I am not going to lie, kind of makes a lot of sense. But hey, who knows? Given the dangerously open rotors, it might come in handy when taking down on-the-foot criminals, right? Just saying… Apparently, this Dubai Police's version of Hoversurf hoverbike was a joint development based on the Russian company's battery-powered Scorpion-3 model and really, we are not surprise at UAE picking up the hoverbike.
The country has, in recent times, established itself as a bold early adopters of technology, including human-carrying drone that is supposedly on trial for sometime now. And as far as hoverbikes are concerned, the concept has been explored by many, including startups and hobbyists (and mad garage inventor), with some success. As dangerous as the Hoversurf's variety may look, it is actually one that looks a like a flying bike and kind of tickles our fancy. But that's probably just me.
Images: The National.
Animated GIF: Sploid.
via Sploid.