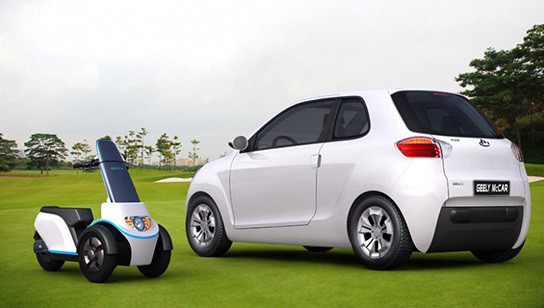 (credit: Geely)
Chinese car firm GEELY doesn't has a long history but it managed to raise eyebrows when it purchased Volvo cars from Ford back in August 2010. now listed as one of China's top car manufacturers, it has come up with one nifty concept, dubbed the McCar. no, it is not a car endorsed by McDonald. it just happens to be called McCar. beneath it's cutie-pie look, hides an electric trike that folds into its trunk while still leaving enough room for your luggages.
[ad#Google Adsense-text-468×60]
the electric companion charges while it's docked at the back of the car, ensuring that it will have juice to make its run when needed. GEELY claimed that the trike can run up to 18 miles (29 kilometers) and has a top speed of 18 mph (about 29 km/h). pretty decent for something this compact. while the design of the McCar has nothing much to shout about, it offers two eco-friendly options for its propulsion system. the first is a hybrid petrol-electric engine that has a combined mileage of 373 miles (600 kilometers) and a top speed of 80 mph (128 km/h). running on pure electric on its 8 kWh battery gives it a range of roughly 31 miles (50 kilometers).
the second is the all-electric motor that has a 12 kWh battery system that is good for a 93 miles (150 kilometers) range. however, top speed is limited to just 52 mph (about 84 km/h) for the full electric version. it shouldn't be a biggie as i would imagine consumers getting such a cute car wouldn't be a speed demon in anyway. as you can see from the images, the trike is designed for a single rider and hence, it could be a 'secondary' transport for the driver to reach places where his or her car cannot access or not convenient to do so.
the GEELY McCar was unveiled at the recent Shanghai Auto Show 2011 and is GEELY's vision on countering the traffic jams of today and tomorrow.
GEELY [CH] via Fast Company / Physorg