Fiat range topping Fiat 500 Abarth growling 160 horsepower may rein supreme among the 500s, but not for long cos' Italian design studio, Lazzarini Design, is apparently working to transplant a 4.5L Ferrari V8 engine, as found on the 458, into a Fiat 500, which will be humbly known as Fiat 550 Italia. You heard it right, a super compact with possibly 500+ horsepower and nearly 400 lb-ft behind it, which sounds like awesome and pretty crazy at the same time. Given the lightweight nature of the 500, we are going assume this 550 Italia should be able to rocket from zero to 60 in less than 3.3 seconds. Logically, it could be faster since we read that it (the 550 Italia) will have a carbon fiber body, which should see it shedding some serious pounds.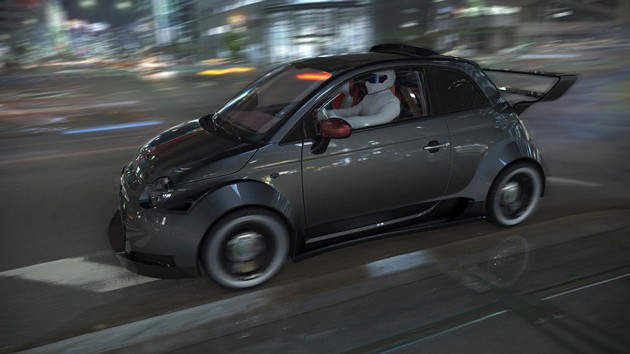 Of course, the transplant will not be as simple, especially when it will involve more than just the motor; the transmission, differential, suspension and all will also be migrating over to the smaller Italian car. Lots will have to be done to accommodate the monstrous engine, which will include removing the front engine and everything after the front seats. Furthermore, the wheelbase has to be increase by 35 cm to fit the transmission. The front and the rear also gets a bump in dimensions, with the front being 250mm wider and the rear, 350mm 'fuller'. No reasons were given for increase in width, but it is likely due the suspension setup and possibly for stability to match the new found power (if that hasn't been tuned down).
Finally, roof scoop is thrown in mix to direct air into the motor, while the rear will see a big-ass wing for added downforce to tame the wild compact at speed. The Fiat 550 Italia Concept is listed as a prototype on Lazzarini Design website, which it also stated that only one will be made and will, reportedly, cost a whopping $550,000. Ouch.