Tool belt is great for keeping the tools you need close to you while you work, but digging for tiny screws and nails, or getting snagged when retrieving the tools is not exactly fun. In a classic case of "why we didn't think of it", inventor Grant Miner has come up with a new-age tool belt, or should we said, tool vest. His invention, dubbed Mag-Vest, totally rethinks how a tool belt should be. Instead of the typical waist worn belt with pockets and loops, Mag-Vest is, as the product name suggests, a vest embedded with ceramic magnets on the front to keep whatever tools (or nails and box wrench) you need securely attached to your chest. Of course, the chest is as good only if your tools, and bits and pieces are of ferrous metal, such as steel, and they are not too heavy.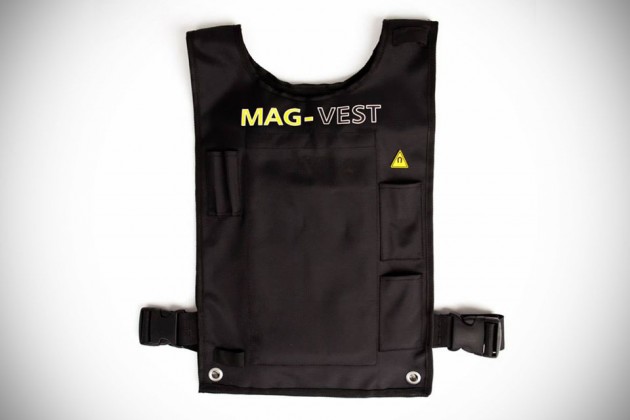 For stuff that cannot be adhered to the chest, such as hammer (or mallet), pen or pencil, box cutter, measuring tape et cetera, Mag-Vest has the appropriate pockets and loops for them. Grant has taken care to make sure those loops and pockets are strategically placed at the sides, so they will not interfere with the tool placement on your chest. Around the back is of breathable mesh to ensure comfortable wearing. While it looks to be a brilliant idea (actually, it is), the Mag-Vest does have a couple of limitations such as it is not pace-maker friendly, which means folks who wears pace-maker cannot use it and also, since the tools are mainly attached to the chest with magnets, they run the risk of behind 'swipe' off and you don't want that to happen when you're working at height.
Other than those two concerns or limitations, Mag-Vest does appear to be a near-perfect solution over the cumbersome tool belt system, especially when you are required to work in narrow spaces, such as under the sink. I wouldn't recommend to be used when working at height in view of safety concern. Mag-Vest magnetic tool vest is not yet a reality, but you can help to make it happen by supporting the product's crowdfunding campaign on Kickstarter. For a pledge of $60, a Mag-Vest could be yours as soon as August. As always, that's provided the campaign reaches or surpasses its funding goal of $15,000 in the next 23 days. Product video after the break.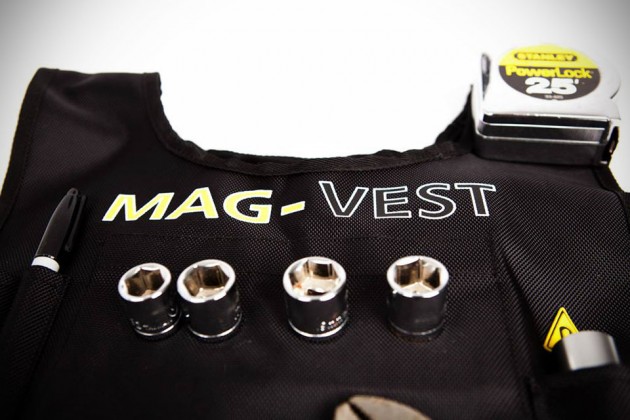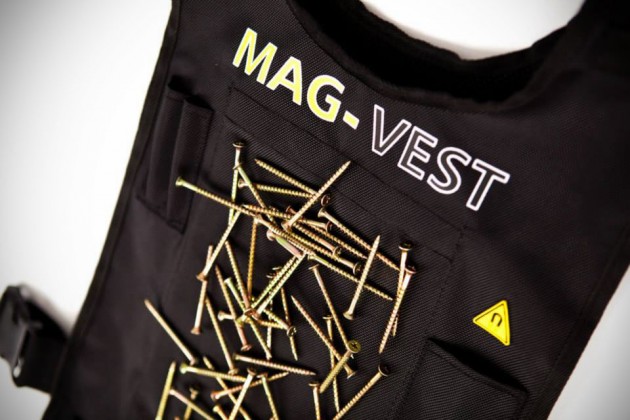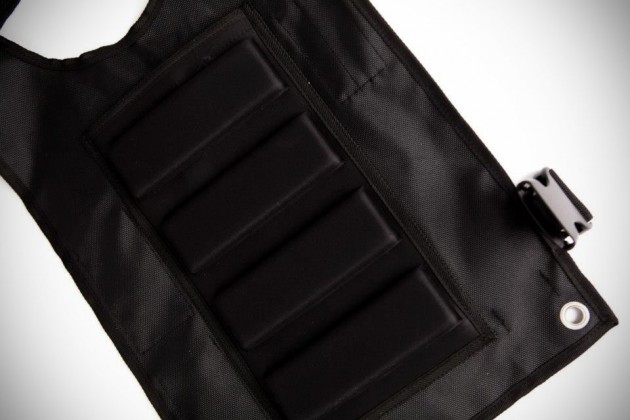 submitted via TIP US page.