According to Sun Tzu, the legendary Chinese military general and strategy extraordinaire, "if you know the enemy and know yourself, you need not fear the results of a hundred battles." While fishing can hardly equate to a battle and fishes are not quite your enemies, it does help if you know where the fishes are and how the underwater terrain, hidden by those murky waters, is like. But how do you get those information? Simple. With FishHunter Directional 3D. First introduced earlier this summer at the world's biggest sport fishing trade show, ICAST, FishHunter Directional 3D is billed as "the most powerful portable fish finder ever" and for good reasons.
This miniature sonar buoy is equipped with 5 dual frequency transducer to detect where the fishes are, up to a depth of 160 feet (48 meters) and relays those information to your smart device via WiFi with a range of up to 200 feet (60 meters). Unique to FishHunter Directional 3D is an industry-first, patent-pending Directional Casting Technology, 3D Bottom Contouring and 3D Bottom Contour Mapping that enable anglers to know exactly which direction the fishes are and also maps out the underwater terrain to sniff out the fishes' hideouts.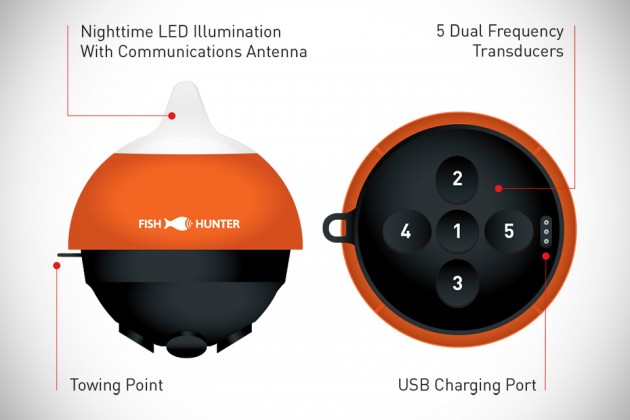 With Directional Casting, you will be in the know of many fishes are located on the right, left, top, bottom, center of the Directional 3D and at what depth, so you will know where to cast to increase your odds of snagging them. The 3D Bottom Contouring lets you in on the bottom structure, while Mapping feature allows you to create custom 3 dimensional contour map of your favorite fishing spot. And if you are thinking fishing on icy lake, it can do that too as it is designed to survive in extreme cold condition, down to -22 Fahrenheit (-30 Celsius) and without the need for it to be submerged. All you need is that little hole-in-ice to get started.
The FishHunter Directional 3D works with both Android and iOS devices and is power off a 1,150 mAh battery with up to 8 hours of operation, or 500 hours standby time. FishHunter Directional 3D is slated for November 2015 availability, but if you so desire, you can pre-order it now at a discounted price of $199, through FishHunter website.
submitted via TIP US page.