what else an iPhone is not capable these days? with the right hardware and software, this communication device can be transformed into virtually anything from a weather station to satellite phone to point-of-sale system, and now, you can add thermal imaging to the list. this yet to be named add-on accessory for iPhone was developed by global thermal and night vision equipment specialist FLIR to demonstrate the firm's new line of miniature Quark camera cores. that said, this is where the disappointment for average joes like us starts: it is a proof-of-concept and it is destined for military applications. therefore it is highly unlikely you will see average folks capturing images that doesn't make sense to average people with this on the street anytime soon.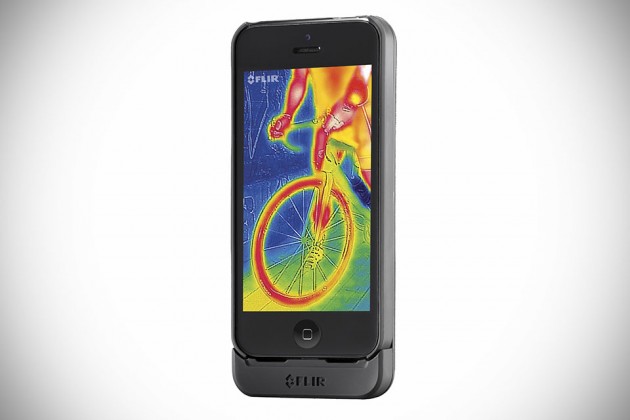 on top of that, the price might be too prohibitive to be a consumer product (and keeping in mind that it is not a standalone product that we are talking about), but if eventually the technology and price could come to an agreement, we think such add-on will come in handy for hunters, as a survival gear, and even at homes for snooping out badly insulated areas so that you can keep your pad nice and warm during those cold winter time. the camera module is of a 0.3-megapixel item, paired to a 9mm lens that enable it to spot a person three football fields away – presented in the full glory of heat signature on the large iPhone's screen.
obviously, the FLIR Thermal Imaging for iPhone will no doubt add a significant bulk to the iPhone – thanks in part of a build-in battery for powering the thermal imaging device – however, that 'bulk' is not by much in our books, since there are bigger phones that does nothing of sort but already measured up to such a size or even larger. besides, with this on, you could save yourself from bringing around a separate thermal imaging device, or for the paranoia, as a backup thermal imaging device when out in the field.
UPDATE [July 24, 2014; 8:52AM] the FLIR Thermal Imaging for iPhone 5/5s is available pre-order in the U.S., priced at $349.99 a pop. shipment is expected to commence in the week of August 4, 2014. availability in Europe is expected to begin by mid-August with availability in other regions to follow soon after. it will eventually sold on Apple online and offline retail stores, also starting in the U.S. and Canada, with worldwide to follow suit.
via Geek via Popular Mechanics