Turntable was so named because it turns a record on a table like device. The Floating Record Vertical Turntable by Gramovox though technically is a turntable, is quite unlike any vinyl player you have seen thus far. It defies gravity and spin your black, groove-cover plastic disc vertically. And that my friend, is something of a (vinyl) engineering feat. I mean, to get the tone arm to move across the platter horizontally, it's no big deal, but to get the same effect or even sounding fabulous vertically while defying the pull of gravity is seriously no easy task.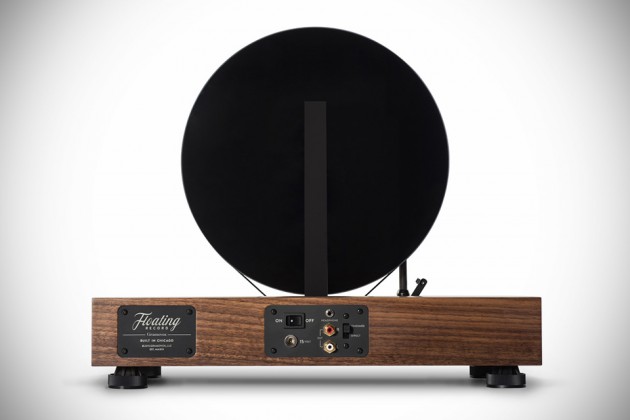 In any case, not only Gramovox did it, it goes above and beyond by integrating a pair of 2" full-range speakers with 15W digital power amp into its beautiful maple or walnut base so that it could be use as a standalone device, while a set of RCA and 1/8" audio output jack allows it to be hooked up with your preferred speaker system or your favorite audio cans. Other details include Audio-Technica AT95E 1/2" standard mount cartridge with elliptical diamond stylus, belt drive system plays record at 33 1/3 and 45 RPM (selectable by manually moving the silicon belt over the inner or outer groove), and polished acrylic platter and acrylic plinth.
Want one? Of course, you want one. I mean, who doesn't want the opportunity to appreciate the beautiful record as it spins on the platter without having to bend over it? Seriously, this is part art, part turntable. If really want one, you can join the 2,000 plus folks who have backed the Floating Record Vertical Turntable on Kickstarter so far to pre-order for $349 and up.