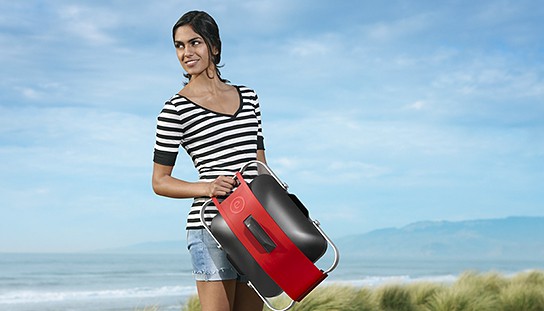 (image credit: element by Fuego) Fuego Element Portable | US$149.99 | www.elementbyfuego.com
BBQ affair takes a step into portability with the element portable by Fuego. this new age BBQ grill can be slung over your shoulder just like you would with a messenger bag and thus, giving a literal meaning to cooking on the go. at a push of a button, the legs fold down and lock into the cooking position. done with the cooking? another push of the button, straightens the legs out and instantly transform them into handles. the red band you see in the image is actually the travel band that holds the legs, lid and grill together and when combined with the adjustable canvas shoulder strap, you have one neat BBQ equipment that you can take it anywhere you want.
the BBQ grill works with both 16.4 and 14.1 LP gas canisters and features a variable control valve that lets you control the surface cooking temperature just the way you want it to be. the element portable features a 159 square-inch cast iron grill for better heat conductivity, and a push button igniter fires up the 8000 btu/hr stainless steel burner capable of 350-650DEG.F of heat. great, now you have the real estate for a gang of people to BBQ on, enough heat to cook the toughest meat and it is ultra-portable. so what are you waiting for? time to hit the road with one this, or may be two. the Element Portable by Fuego retails for $149.99 and is available for pre-order here. you know? it's never too early to prep for summer vacation.